U.S. Company Bonds Outshine Everything in Fixed Income: Chart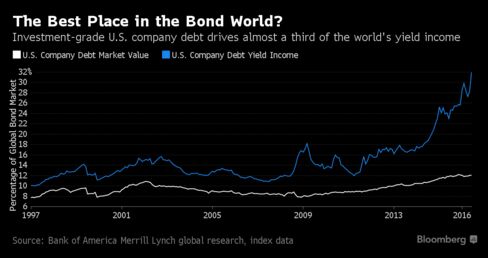 For investors hunting for yield, bonds of blue-chip U.S. companies stand apart from everything else. According to Bank of America Corp. credit strategists, the $6 trillion of investment-grade company debt issued in dollars makes up 12 percent of the global bond market, but drives 32 percent of yield income. While the Fed's easy-money policies after the financial crisis boosted U.S. corporate debt, what's fueling their performance now is the experimentation with negative rates undertaken by European and Japanese central bankers.
Before it's here, it's on the Bloomberg Terminal.
LEARN MORE