The Official Bank of Rio 2016 Is Winning the Marketing Olympics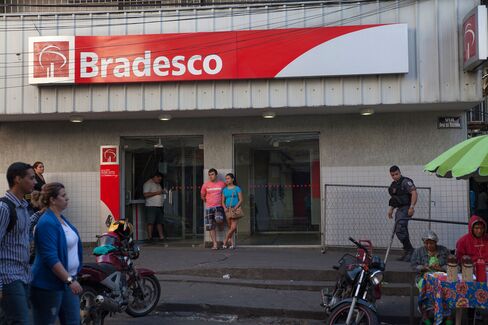 Bradesco gets chance to counter Itau's World Cup sponsorship

Brazilian banks face rising customer defaults amid recession
Olympics advertising is everywhere in Rio now, and front and center is Banco Bradesco SA, with posters on newstands, bus stops, digital displays and pretty much every other flat surface.
The campaign, like most high-profile sponsorships, is an expensive gambit to improve the bank's brand. It comes on the heels of rival Itau Unibanco Holding SA's country-wide backing of the 2014 World Cup and at a time when Brazil's financial institutions are grappling with the effects of a deep recession.
So far Bradesco's efforts seem to be working. More than a quarter of Brazilians named Bradesco when asked to identify an Olympic sponsor, according to a Hello Research survey of 1,200 Brazilians released in February. National sponsors Nissan Motor Co. and billionaire Carlos Slim's Claro fared far worse, with 1 percent and 4 percent of responses, respectively.
"It's pretty easy to say that [Bradesco's] strategy was worth it," said Davi Bertoncello, chief executive officer of Hello Research, a market research company.
The first Brazilian company to sign up as an official sponsor in 2010, Bradesco paid at least $320 million, or 570 million reais, for the rights to use Rio 2016 iconography in its advertising. The start of the Games next month gives Bradesco -- the nation's No. 2 lender by market capitalization, behind No. 1 Itau Unibanco Holding SA -- a chance to respond to the marketing efforts of its larger competitor.
Bradesco said its own monthly surveys show even more positive results, although the bank didn't share the surveys or describe their methodologies. In an emailed response to questions, the bank said its results make it the best-remembered bank in the financial sector when respondents were asked about Olympic sponsorship. It also said the brand had registered a noted increase in "attractiveness" in relation to the Games.
Itau also claimed its World Cup spending was a success, calling it the bank's most successful campaign ever by return on investment. (Bradesco's Olympic sponsorship is more than twice as expensive as a top-level, four-year FIFA sponsorship, which includes a World Cup.)
But much has changed in Brazil since the 2014 soccer tournament. As the Brazilian economic crisis has led to greater delinquency rates and bad-loan provisions, banks have raised lending margins and fees for services, while cutting expenses. The nation's average new credit interest rate climbed to 32.7 percent in May, the highest level in more since the central bank started calculating the figures in March 2011.
Though the bank didn't plan it this way, the Olympics also serves as Bradesco's chance to shore up its brand during a sharp economic recession. The bank also agreed last year to buy HSBC Holding Plc's Brazil unit for $5.2 billion, which expands Bradesco's geographic footprint and helps it grow in insurance, credit cards and asset management.
Companies get a lot out of sponsorship beyond just retail advertising opportunities. It doesn't hurt government relations that Bradesco stepped up with an investment the magnitude of which few other Brazilian corporations could have afforded.
Before it's here, it's on the Bloomberg Terminal.
LEARN MORE