Saving 900,000 Lives Drives India's Spending on Cleaner Fuel
India to target 100 million new LPG users over three years

New plants, pipelines, port terminals planned to meet demand
Kamleshkunwar, a mother of three living in a village in central India, first used cooking gas to prepare a meal about a month ago. Her family struggled for years with the ash and smoke that comes from burning wood, until they received a free gas connection from the government as it tries to change how India's poor cook.
State-owned oil marketing companies have since May distributed 1.8 million liquefied petroleum gas connections under a new program targeting the extremely poor, according to official estimates. The government's aim overall is to increase penetration to 80 percent, adding 100 million connections, over three years, according to Y.K. Gupta, an executive director at Indian Oil Corp., India's largest fuel retailer.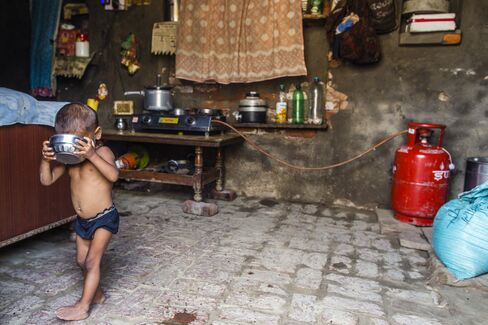 The renewed focus on safer cooking options will drive LPG use up from records as the government tries to reduce the more than 900,000 premature deaths the Institute for Health Metrics and Evaluation attributed to household air pollution in 2013. It will also make India more import dependent and strain infrastructure. To cope, Hindustan Petroleum Corp Ltd. estimates it and its peers will need to invest 100 billion rupees ($1.5 billion) over the next few years to build new plants, expand old ones and lay pipelines, plus additional outlays on improving port capacities.
Indoor Pollution
"When you are pushed to deliver something by a target date, definitely there will be stress in the system, but that is good for the system," Mukesh Kumar Surana, chairman of Hindustan Petroleum, said in an interview from Mumbai. "We will be pushed to work harder. It will help us study our assets better; lot of inefficiencies will get removed in the process by force."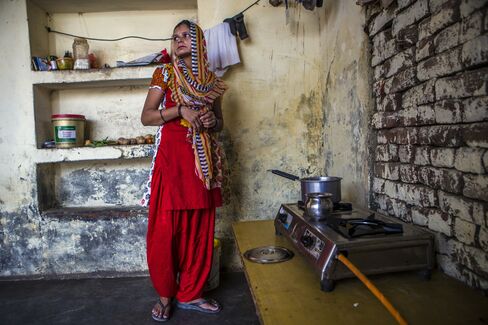 Prime Minister Narendra Modi's government has earmarked 80 billion rupees to provide free LPG connections to women from families living below the poverty line, adding to at least two other programs aimed at reducing the use of fuels such as wood and cow dung. The indoor and near-home pollution generated by burning these is the leading cause of premature death in India after high blood pressure, according to Kirk R. Smith, a professor of global environmental health at the University of California, Berkeley.
Kamleshkunwar says four other families in her village of Bapaiya, Madhya Pradesh, have benefited from the government's program. She and her husband are laborers, she explained, and the gas connection is one comfort in an otherwise hard life, plus the hours they once spent collecting dry wood is time they now spend with their children.
For Rita Sharma, a 27-year-old housewife in Mangrauli village about 22 miles from New Delhi, India's capital, a government-subsidized connection she got about five months back was one of the best gifts of her 12 years of marriage.
Life-Changing
"It has changed my life," said the mother of three. "This is for women like me. It brings an end to the tears."
LPG consumption was already growing at a steady clip in India as it spread from urban, to semi-urban and rural areas. Usage has climbed at an average of 7 percent annually since 2000, touching a record 19.5 million tons in 2015-16, according to government data. Overseas purchases have grown more quickly and are poised to overtake domestic supply this fiscal year, according to Ashutosh Jindal, the joint secretary for marketing at the Ministry of Petroleum and Natural Gas.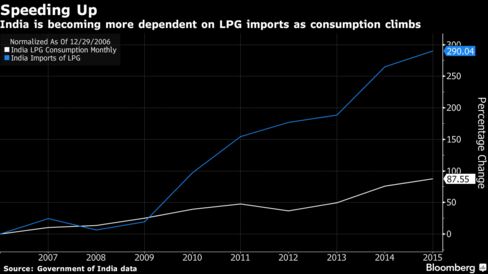 Some experts fear the government's push to accelerate LPG adoption will be hampered by inadequate port and pipeline infrastructure, while new projects will face delays in approvals as well as hurdles to land acquisition and right of way.
"India no doubt suffers from inadequate infrastructure in regards to LPG imports," said Sri Paravaikkarasu, a Singapore-based consultant at Facts Global Energy. "While there are plans to expand import terminals and pipelines, they are moving at a slow pace."
Indian Oil's Gupta estimates the nation will build up to 7.5 million tons of new LPG import terminals over five years, including a 2-million-ton terminal at Paradip and two at Haldia on the east coast. The Kandala terminal on the west coast has been recommissioned while a number of smaller ones are being revived, he said. The three state oil marketing companies are also adding 10,000 new distributorships and 15 new bottling plants.
Much of the focus of new infrastructure investment will be north-eastern and central India, with states including Assam, West Bengal, Odisha, Jharkhand and eastern Uttar Pradesh likely to see the most consumption growth, Gupta said.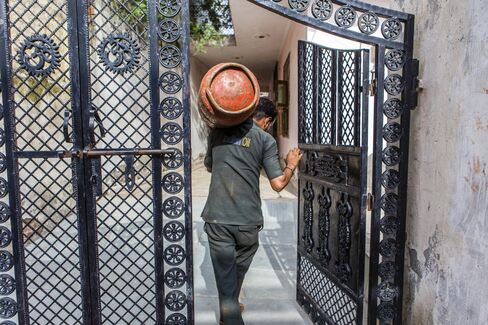 "Making clean fuels more available seems the best way to bring clean household environments to poor people and also reduce the burden on all Indians due to household contributions to reducing ambient pollution," Smith, from the University of California, Berkeley, said in an e-mailed response to questions. "The national program being laid out is truly pioneering in this respect, although of course much needs to be done before it is successful."
Before it's here, it's on the Bloomberg Terminal.
LEARN MORE