A Quick Guide to Japan's Government Debt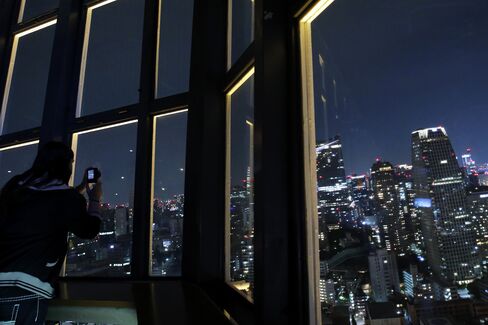 A debt primer: What we talk about when we talk about JGBs

What's a construction bond? A FILP bond? A rollover bond?
With Japan's economists and bond market participants mapping out their expectations for potential monetary and fiscal stimulus news in coming days, one thing that's increasingly in focus is the different types of government debt.
There's a welter of terms used for different securities -- any of which could conceivably be issued to help pay for Prime Minister Shinzo Abe's spending-and-lending package, expected on Aug. 2. One thing to note is that the various types of debt look the same to bond buyers, so these distinctions don't matter if the Bank of Japan decides to increase purchases at its July 29 meeting.
The following is a primer for the debt that may be referenced by policy makers.
Japan's public finance law requires that spending be funded by means other than borrowing or loans. Yet that's an unattainable goal right now, so to deal with the reality of using more money than it collects from tax revenue, Japan issues a variety of bonds to fill the budget hole.
In order to fund the extra spending planned for this year, Japan will issue some bonds -- though it's unlikely they will be regular deficit bonds, with government officials indicating that "construction bonds" will be used.
What's the difference?
The two main types of new bonds are distinguished by their purpose and the law that allows them. Yet once sold they are identical, and both are included in Japan's national debt.
Deficit Bonds
Such bonds are new debt issued to pay for Japan's budget deficit and were first sold in 1975. The government will sell 28.4 trillion yen worth this year, down from a record 36.9 trillion yen in 2009 during the financial crisis. As the government isn't supposed to rely on debt, the bonds are authorized under a special law renewed earlier this year to cover issuance through fiscal 2020.
Construction Bonds
These bonds are used to pay for public works and are allowed under Article 4 of the finance law. They're sometimes referred to as Special Article 4 bonds for that reason. The idea is that these bonds finance specific projects, not government spending in general.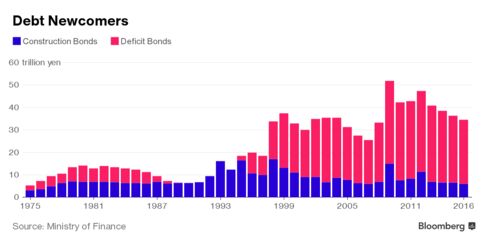 FILP Bonds
Fiscal Investment and Loan Program bonds pay for lower interest loans from the Fiscal Loan Fund to public-sector borrowers. These aren't included in calculations of national debt as the debt is redeemed through the recovery of the loans.
The government will sell 16.5 trillion yen of these bonds this year, and pay 13.5 trillion yen out of the fund. This will include 794 billion yen for student loans, 467 billion yen in loans for improving childcare and nursing homes to help boost the birthrate and the labor force, and 2.8 trillion yen in loans to local governments to cover budget deficits.
Refunding or Rollover Bonds
As opposed to new debt, these are issued to pay for bonds that have matured. This was 67 percent of all bonds being issued this year, according to the finance ministry plan.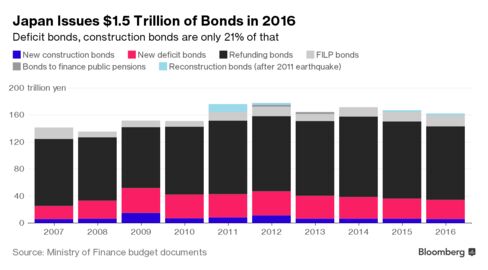 Not included in this accounting - local government debt, short-term debt such as treasury bills and financing bills, government-guaranteed debt such as that issued by highway companies, and bonds from the Development Bank of Japan and other government-affiliated financial institutions.
When added up, it's not a pretty picture, with most calculations of gross debt putting it well above twice the size of the economy.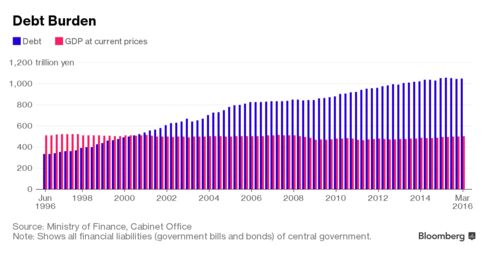 Further Reading
Monthly JGB newsletter from Ministry of Finance
Annual debt management report
Before it's here, it's on the Bloomberg Terminal.
LEARN MORE