Deutsche Boerse Investors Are Yet to Back Takeover of LSE
59.4% of investors accept German exchange operator's deal

Reporting of shareholder acceptance is delayed by two days
Deutsche Boerse AG is still seeking shareholder acceptance for its $13.5 billion takeover of London Stock Exchange Group Plc, with 59.4 percent of investors giving the deal their blessing.
That's up from the 58.1 percent support the tie-up had at the last update, the company said in a statement. The German exchange operator needs to reach a threshold of 60 percent for the transaction to proceed.
While today is the deadline for Deutsche Boerse investors to accept the acquisition, there's a two-day lag in reporting the results, according to a Deutsche Boerse spokesman. The final tally may not be known until Thursday, July 28.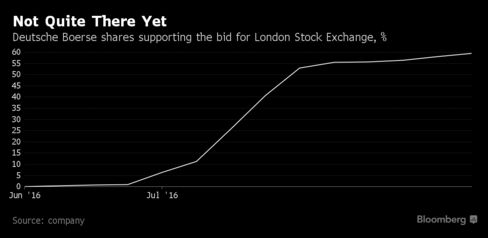 Deutsche Boerse lowered the threshold to 60 percent from 75 percent on July 11, arguing that the change was necessary to accommodate passive investors. Index investors own about 15 percent of the company. The exchange operator also gave shareholders an extra two weeks to tender their shares.
Before it's here, it's on the Bloomberg Terminal.
LEARN MORE