A BOJ 'Mega Surprise' Could Come Even Without Boosting Stimulus
Tapping on existing stimulus pedals may not be enough for yen
In the roulette game of Bank of Japan policy forecasting, most players are betting on Governor Haruhiko Kuroda to double down on some or all of his current three main policy tools on Friday.
If he follows through on those calls, that would mark the first time that Kuroda, a former head of currency policy at the Finance Ministry, would fail to surprise market participants. He unleashed a much bigger framework than anticipated in April 2013, unexpectedly expanded it in October 2014 and dumbfounded observers in January 2016 by unveiling a negative interest rate tactic that he had previously dismissed.
Given the premium that the BOJ chief has placed on affecting expectations in his battle to eradicate Japan's "deflationary mindset," some are warning that just doing more of the same when that's what most anticipate won't be enough to address waning inflation trends.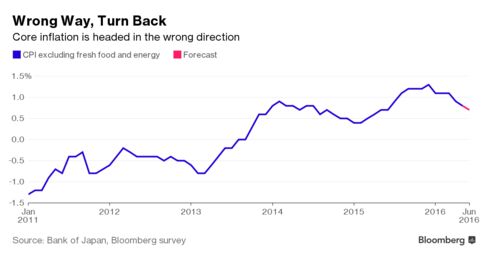 "With expectations inflated by reports of the Abe-Bernanke and Kuroda-Bernanke meetings, even a consensus outcome could prove disappointing for yen bears," said Elsa Lignos, a senior currency strategist Royal Bank of Canada's RBC Capital Markets unit in New York. Former Federal Reserve Chairman Ben S. Bernanke, a longtime advocate of Japan stimulus, met with Kuroda and Prime Minister Shinzo Abe earlier this month.
One policy tool that may be overlooked is forward guidance. A commitment never to shrink the BOJ's massive balance sheet, even when the inflation target is reached -- or a pledge to keep it at least at some gargantuan size -- is one thing absent from the current public debate.
"If the BOJ said that this week, it would be a mega surprise for me and other Japanese market participants," Izuru Kato, head of Totan Research Co. in Tokyo, said of a balance-sheet pledge.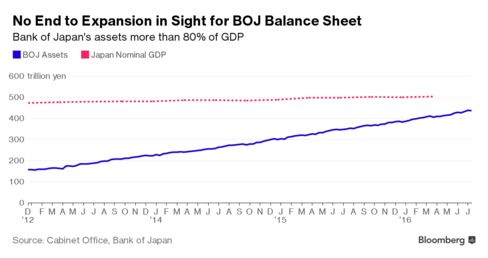 Kato himself sees the BOJ taking some new policy steps on Friday, given increasing sustainability concerns with the three main tools -- government bond purchases, the negative rate on a portion of commercial bank reserves and the buying of risk assets including exchange-traded funds. He sees some other unanticipated action, such as a broad expansion in collateral for BOJ loans.
The catch for Kato on a balance-sheet commitment is that Kuroda's Finance Ministry heritage would make it unlikely for him to essentially give the government a pass on fiscal consolidation.
Yet it's known that BOJ officials have in the past debated a strategy of maintaining a large balance sheet -- at least back in 2014, according to people familiar with the talks at the time. The context then was to avoid any spike in bond yields when the central bank reached its inflation target.
Such a commitment could also offer a crucial counterweight to any other surprise the market would take negatively -- like paring down the elusive 2 percent inflation target or abandoning its two-year time-frame.
The roulette ball lands on Friday.

Before it's here, it's on the Bloomberg Terminal.
LEARN MORE