Weakest Bond Demand Since 2002 Imperils Record Aussie Debt Rally
Reserve assets suggest demand from central banks is waning

Outlook for currency losses threatens demand for Aussie bonds
Demand at Australia's bond sales in 2016 has dropped to the lowest level in 14 years, a sign a record-setting rally may be coming to an end.
At auctions this year, investors have submitted bids to buy an average 2.94 times the amount of debt the government has sold, the lowest level since 2002, based on data from the Australian Office of Financial Management. One sale last week drew bids for 1.66 times the amount available, a three-year low.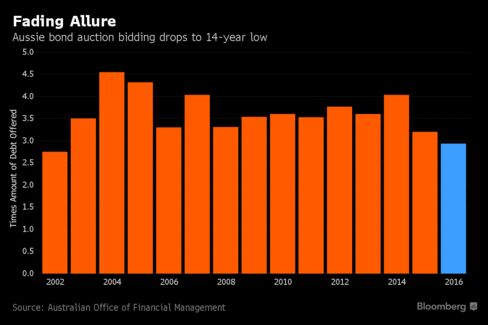 While slowing inflation and higher yields than those abroad fueled a rally this year, the market surge is fueling a debate over whether bonds are becoming too expensive. The extra yield Aussie 10-year debt offers over Treasuries shrank to 34 basis points on Friday, the smallest premium in 16 months, based on closing prices. A gauge of foreign central bank ownership shows demand is ebbing as the outstanding government debt reached record levels.
"If the foreign central banks are no longer buying and are happy with their holdings as they are, who's going to buy the government securities?" said Peter Jolly, the head of market research at National Australia Bank Ltd. in Sydney. "The Australian government continues to issue at quite a hefty pace. Demand is struggling to keep up with supply."
Beating Treasuries
Aussie 10-year bonds yielded 1.94 percent as of 10 a.m. Tuesday in Sydney, rising from the all-time low of 1.84 percent earlier in July. The nation's debt returned 7.2 percent in the past 12 months, versus 5.4 percent for U.S. Treasuries, based on Bloomberg World Bond Indexes.
International reserve assets allocated to Australian dollars and denominated in the local currency, a gauge of foreign central bank demand for the nation's assets, rose 0.5 percent in the first three months of the year, according to the latest figures from the International Monetary Fund.
That's the smallest gain since the last quarter of 2014 when the allocation declined and continues a slowdown from a 20 percent surge in the April-to-June period last year.
Australia's sovereign debt climbed to a record A$438 billion ($327 billion) in May, government data show. The latest figures on foreign ownership as of December show overseas investors held 60.4 percent of the nation's bonds and notes, a six-year low.
Still Attractive
Australia's yields will keep attracting investors and its AAA credit grade offers a haven if global economic growth slows, said Martin Whetton, a Sydney-based interest-rate strategist at Australia & New Zealand Banking Group Ltd. It offers a premium versus Germany and Japan, where yields on 10-year notes are negative.
"Demand will always be there," Whetton said. "If the world gets worse, the demand will be there for what is still one of the highest rated, high-yielding sovereigns."
There's a 61 percent chance the Reserve Bank of Australia will cut its benchmark interest rate when policy makers meet Aug. 2, based on data in the swaps market compiled by Bloomberg. The RBA brought the figure down to a record low of 1.75 percent in May. Two inflation gauges the central bank uses to guide policy fell to record lows in the first quarter. The government reports second-quarter inflation Wednesday.
For an article on how investors are betting against the Aussie dollar, click here.
UBS Group AG's wealth management unit, along with Boston-based money manager Eaton Vance Corp. and Insight Investment Management Ltd., a unit of Bank of New York Mellon Corp., all say the outlook for RBA cuts will send the Aussie dollar down, a move that threatens to erode demand for the nation's assets.
Economists' yield forecasts suggest this year's bond rally is over. The 10-year yield will climb to 2 percent by Dec. 31, based on the median projection in a Bloomberg survey.
"The margin against the U.S. is coming down quite a lot," said Roger Bridges, the chief global strategist for interest rates and currencies at Nikko Asset Management Co.'s Australian unit in Sydney, which has $14 billion in assets. "At the same time, there's fair amounts of issuance. We are seeing offshore buyers not as enamored with the Australian dollar. That would obviously dissipate demand for Australian bonds."
Before it's here, it's on the Bloomberg Terminal.
LEARN MORE