Singapore Vows Tougher Stance After 1MDB Dents Reputation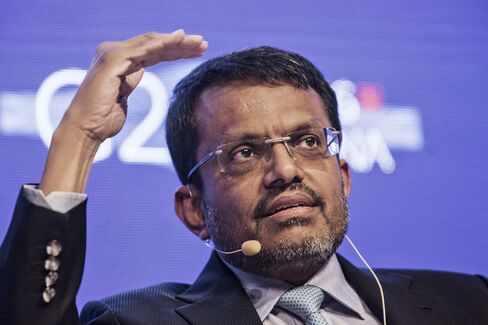 Monetary authority's Menon says lapses 'simply unacceptable'

City hasn't met 'high standards' that it set itself: Menon
Singapore's regulatory chief vowed stronger action to address the reputational damage caused by anti-money laundering lapses at banks in the city linked to the troubled state investment fund 1Malaysia Development Bhd.
QuickTake Malaysia's 1MDB Fund
The shortcomings uncovered by the Monetary Authority of Singapore's more than 15-month probes into fund flows linked to 1MDB are "simply unacceptable" and the city's reputation has "taken a dent" as a result, the central bank's Managing Director Ravi Menon said at a press briefing Monday.
"We may not be any worse than other jurisdictions," Menon said. "But that is no consolation. We have not met the high standards we have set for ourselves."
In a statement last Thursday, the MAS rebuked UBS Group AG, DBS Group Holdings Ltd. and two other banks for weaknesses in anti-money laundering controls related to transactions tied to 1MDB. Besides those four, MAS said it's still examining "certain other" financial institutions, without naming them, adding that details will be provided as it continues investigations that began in March 2015.
That statement was the latest twist in an evolving scandal centered on a fund set up in 2009 to bolster the Malaysian economy, and came two months after MAS said it will revoke BSI Bank Ltd.'s license for breaching money-laundering rules. Allegations that billions of dollars have been improperly siphoned out of 1MDB have led to investigations across the globe -- spanning from Abu Dhabi, Switzerland, and the Caribbean to Hong Kong and the U.S.
For a QuickTake Q&A on 1MDB, click here.
The Singaporean regulator won't investigate 1MDB but intends to focus on transactions related to fund flows at financial institutions that may be linked to the sovereign fund, Menon said. While money laundering had become more sophisticated and more difficult to detect, the MAS saw no "systemic" issues with anti-money laundering controls, he said.
"This is not an investigation into 1MDB, that's not our business," Menon said. "Our business is to investigate financial transactions that took place in and through Singapore that were suspicious."
Naming, Shaming
The regulatory chief pledged "stronger regulatory actions," saying that the MAS will conduct "more intrusive inspections" of financial institutions identified as facing higher risks.
Menon said the regulator will take steps such as increasing the frequency of inspections, handing out bigger financial penalties and publicly naming companies that breach regulations. The MAS conducted 608 on-site inspections between 2013 and 2016, compared with 108 during the period between the second quarter of 2010 and the first quarter of 2013, he said.
The MAS, which traditionally has kept its supervision of financial institutions confidential, plans to be more open about naming firms that it scrutinizes, according to Menon.
"We're beginning to take a different tack," Menon said. "Naming and shaming sometimes hurts them more than financial penalties and they have an effect. But we will do this judiciously." The MAS will "exercise care and balance" as to what it wants to make public, he added.
Asset Seizures
In last week's statement, the Singapore central bank said preliminary findings from its probes had uncovered "instances of control failings" in the local units of UBS and Standard Chartered Plc, as well as DBS, Singapore's largest bank. It said it found "substantial breaches" of anti-money laundering regulations at Falcon Private Bank Ltd. The four banks said that they were cooperating with authorities.
The MAS statement came a day after the U.S. Justice Department launched legal action to seize about $1 billion of assets linked to 1MDB that it claims were laundered through the U.S. banking system. The Singapore central bank said last week it had seized S$240 million ($176 million) in assets linked to the Malaysian fund.
"We can do better," Menon said. "MAS will further strengthen its enforcement capability to conduct rigorous investigations and to take swift and decisive actions."
Before it's here, it's on the Bloomberg Terminal.
LEARN MORE