Paschi Drops Amid Capital Concerns Before Stress Test Results
Banca Monte dei Paschi di Siena SpA dropped the most in three weeks in Milan amid concerns it may need additional capital and talks between Italy and the European Commission for a government backstop haven't produced an agreement yet.
Monte Paschi fell as much 9 percent, the most since July 5, and was down about 8 percent to 25 cents as of 10:28 a.m. The bank has lost about 77 percent this year, reducing its market value to less than 900 million euros ($987 million).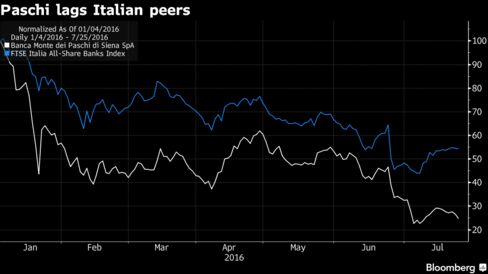 Monte Paschi, which is under pressure from the European Central Bank to offload more than 10 billion euros of net non-performing loans over three years, is expected by analysts to show weak capital levels in stress tests results that will be announced July 29. The bank's capital is "at risk," daily Il Sole 24 Ore reported Sunday, citing preliminary indications of the stress tests.
"Monte Paschi is at the heart of the storm and the upcoming stress test looks to be the catalyst triggering the need for an immediate solution," analysts at Mediobanca SpA, including Riccardo Rovere and Andrea Filtri, wrote in a note Monday.
Monte Paschi is racing to reach an agreement to sell bad loans to an Italy-orchestrated fund and cover a capital shortfall by tapping investors for as much as 5 billion euros, people familiar with the plan have said. While the lender is seeking to lighten the bad-loan burden through private means, Italy is in talks with the European Commission to back the bank's recapitalization, minimizing losses for its creditors, people familiar with the discussions have said.


Before it's here, it's on the Bloomberg Terminal.
LEARN MORE