German Government Boosts Police Presence After Spate of Killings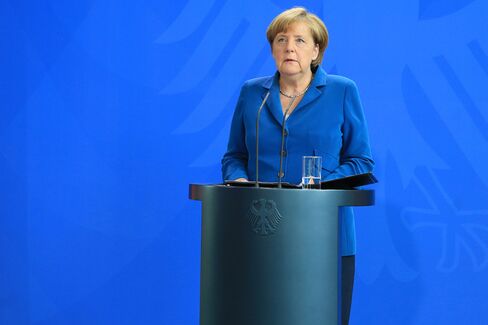 Bomber injures 15 at music festival in Bavaria, kills himself

Three of four assailants identified as asylum seekers
Germany boosted security across the country as Chancellor Angela Merkel's government sought to reassure a public anxious after a series of deadly attacks.
Interior Minister Thomas de Maiziere said Monday the federal police presence would be intensified at airports, train stations and other public places as he defended Merkel's refugee policy. As authorities sifted through the varying motives for the four assaults, de Maiziere urged Germans to be vigilant but restrained, saying the vast majority of asylum seekers posed no danger. Three of the attacks were carried out by refugees.
"Every incident is one too many. We will do everything possible to prevent the repeat of such events," de Maiziere told reporters in Berlin. "We should not change our behavior, though also not be unguarded. We should continue to live out our freedoms."
Two attacks came on Sunday alone -- including a Syrian refugee who blew himself up at a music festival -- following a shooting spree on Friday in Munich that left 10 dead and an ax attack last Monday. While the man with the ax allegedly was inspired by Islamic State, police have concluded the Munich shooter wasn't linked to any terror organization.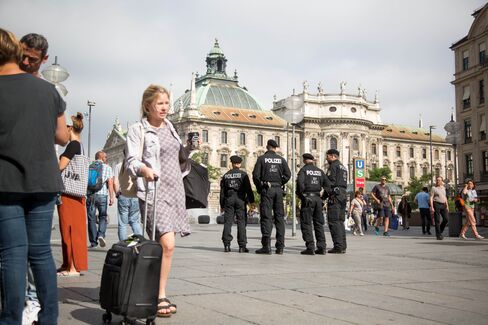 Opponents of Merkel's refugee policy in the anti-immigration Alternative for Germany party, or AfD, renewed their criticism that the influx of refugees poses a danger for society, while officials in the chancellor's Christian Democratic-led bloc echoed the call for calm.
"When the state and the police are confidently accepted as a capable force, as was the case in Munich and the other incidents, then voters tend to gravitate toward the traditional parties," said Peter Matuschek, chief political analyst for polling company Forsa. He cautioned that it's too early to determine how the events will play out politically.
Germany has largely avoided large scale terrorist attacks on its soil, in contrast with the assaults that killed hundreds in Paris, Brussels and Nice over the last year. Still, while the spate of violence in Germany is smaller in scale, the incidents could revive pressure on Merkel over migration as she struggles to confront a range of crises buffeting Europe. Reaction domestically has been muted so far with Bild, Germany's biggest newspaper, urging the country not to rush into policy changes and members of the Christian Social Union in Bavaria, who have been some of the biggest critics of her refugee policies, standing with the chancellor.
Festival Bombing
The latest incident occurred Sunday night at a music festival in the Bavarian town of Ansbach, near Nuremberg, when a 27-year-old man identified as a Syrian refugee blew himself up near the entrance to the event, injuring 15 others. The man, whose asylum application had been rejected, had come to Germany two years ago. He was set to be deported to Bulgaria and had tried twice to commit suicide. Islamic State claimed responsibility.
"All the retrieved contents, materials and circumstances suggest that this attack could have an Islamist background," Bavarian Interior Minister Joachim Herrmann said of the initial investigation. "However, no evidence has been found to date for a direct connection with Islamist organizations."
The bombing followed Friday's shooting spree at a shopping center in Munich, in which an 18-year-old man gunned down nine people before killing himself. The attacker, identified as an Iranian-German who was born and raised in Germany, had a fascination with mass killings, police said. In another assault on Sunday, a machete-wielding 21-year-old male, also identified as a Syrian refugee, killed a pregnant woman in a town south of Stuttgart. Last Monday, an ax assault by an Afghan asylum seeker allegedly inspired by Islamic State wounded two train passengers near Wuerzburg.
"A link with international terrorism, or to Islamic State, cannot be ruled out any more than personal instability on the part of the assailants," said de Maiziere, referring to the Sunday attacks.
Government Criticism
Merkel, who sought to reassure citizens on Saturday after the Munich attack, is closely following the developments from the countryside outside of Berlin, government spokeswoman Ulrike Demmer said.
AfD co-chairwoman Frauke Petry, who has railed against the chancellor's migration policy since taking over the right-wing, populist party last June, attacked Merkel on Facebook.
"Wuerzburg, Reutlingen, Ansbach -- is Germany colorful enough for you now, Mrs. Merkel?," Petry wrote, referring to the locations of the attacks. "What else has to happen so that authorities open their eyes and see what's going on in Germany now?"
Stephan Mayer -- a lawmaker with the CSU, the Bavarian sister party to Merkel's Christian Democratic Union -- warned against hasty judgments, particularly over the chancellor's refugee policy, which triggered public anxiety after more than a million migrants made their way to Germany in 2015.
"There is a rising nervousness among our public," Mayer, who sits on parliament's internal affairs committee, told BBC Radio on Monday. "You have to differentiate -- the events of Friday have nothing to do with our refugee policy. It is completely wrong to blame Angela Merkel and her refugee policy for this incident."
Before it's here, it's on the Bloomberg Terminal.
LEARN MORE