Blink in U.S. Corporate Bond Market and You'll Miss That Yield
Yield-starved bond investors from around the world are starting to pile up at the doors of Wall Street's corporate-debt underwriters.
Bonds sold by blue-chip U.S. companies are among the few offering decent returns. Investors who bought 30-year debt that was part of the year's biggest sale, Anheuser-Busch InBev NV's $46 billion offering in January, have gained more than 20 percent on a price basis compared with 17.3 percent for bonds with similar maturity and ratings, according to Bank of America Merrill Lynch index data.
"I get asked every day by portfolio managers saying, 'what does the product pipeline look like? We need more product to buy,'" said A.J. Murphy, head of global capital markets at Bank of America Corp. "Demand is through the roof for most deals that are coming to market."
The strong demand for U.S. corporate bond sales now underscores how negative rates in Europe and Japan are spurring overseas investors to seek higher returns in the U.S., which is reducing yields. The extra yield that money managers demand to hold U.S. corporate debt compared with government bonds reached the lowest level in a year last week, and is below the average since mid-2011, according to data compiled by Bloomberg.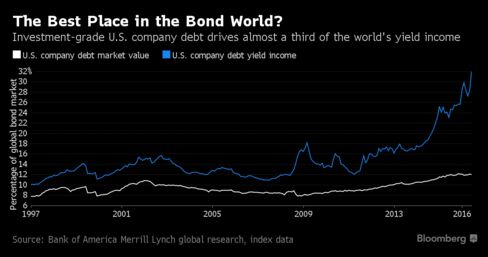 "The new issue market is probably one of the easier ways for investors to express that demand," said Jeff Cucunato, head of U.S. investment-grade credit at BlackRock Inc., the world's largest asset manager, which has been buying bonds in both the primary and secondary markets.
Strong demand helped Molson Coors Brewing Co. and Walt Disney Co. lock in record-low interest rates on debt they sold earlier this month. Investors put in more than $70 billion of orders for Teva Pharmaceuticals Ltd.'s $15 billion sale last week.
"Global high-grade investors are forced to flock to high-grade U.S. corporate bonds," analysts led by Hans Mikkelsen wrote in a note dated Friday. Issuance is likely to beat last year's record $1.3 trillion, Susan Scher, head of investment-grade capital markets at Goldman Sachs Group Inc., said last month.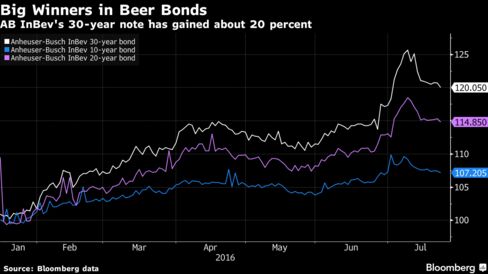 Many investors are hungering for more. Funds that purchase investment-grade debt have seen inflows for three straight weeks, according to data provider Lipper.
Demand is so strong that fund managers now need little added incentive to buy new bonds. While companies over the last 18 months have had to offer an average of 0.09 percentage point of extra yield over their existing debt to entice investors to buy, that premium shrunk to just 0.02 percentage point last week, according to Bank of America strategists.
With such a narrow premium, in some cases it makes more sense to focus on trades in the secondary market instead of new issues, said Steve Boothe, a money manager at T. Rowe Price Group Inc, which manages $765 billion. "You're not particularly thrilled where risk is priced right now," Boothe said. "It's certainly a tough environment."
Corporate borrowing risk has hardly disappeared. Defaults on high-yield bonds, for example, reached their highest levels in more than five years in the second quarter, according to a report this month from Moody's Investors Service, which expects them to rise further.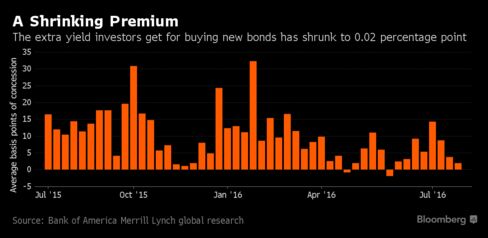 Even so, fund managers may think they have little choice but to buy corporate bonds. U.S. company debt accounts for about 12 percent of the market value of investment-grade bonds globally. But it provides about 32 percent of the income from these bonds, compared with less than 12 percent a decade ago, according to data from Bank of America Merrill Lynch.
"I'm OK holding some of this stuff and just collecting some return over Treasuries," aid Ryan Jungk, a credit analyst at Newfleet Asset Management, which manages $11.8 billion. "I think that's why the space is popular."
Before it's here, it's on the Bloomberg Terminal.
LEARN MORE