No 'Fashion Show' for Duterte's First State of Nation Speech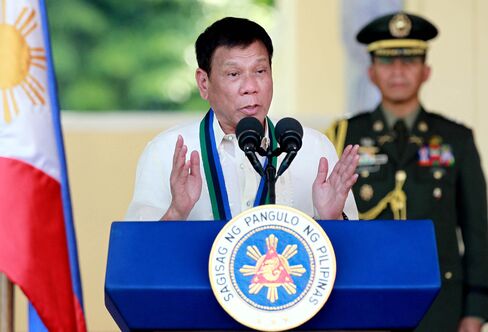 Philippine leader plans low-key, message-focused event

Duterte may defend spate of drug-related police shootings
When Philippine President Rodrigo Duterte faces lawmakers in his first state of the nation speech later Monday it will be a no-frills affair.
The firebrand former city chief, famed for his public tirades against criminals, has told legislators and their guests to come in simple native or business dress. Gone will be the ball gowns and glitz of previous years, where the red carpet leading to the hall was a paparazzi frenzy and the speech followed by a fancy dinner. This year there will be a buffet featuring simple, traditional Filipino dishes.
Durterte, who won office in a landslide, will be focused on explaining why he needs congressional support for his six-year agenda that includes fighting crime and graft and a shift to a federal government system. His populist style was reflected in a July 15 memo banning the use of honorifics like "honorable," or "your excellency," for himself and his cabinet.
"We will downplay the event and it will not be a fashion show," incoming Finance Department spokeswoman Paola Alvarez said last week. "We want to center on the president's message to our people because it's his first state of the nation address."
Award-winning Filipino film director Brillante Mendoza will direct the event, including how Duterte is greeted and escorted by congressional leaders to the podium. There won't be any dramatizations and testimonials during Duterte's speech that could run for 30 minutes, Communications Assistant Secretary Ramon Cualoping told ABS-CBN News. He is due to speak around 4 p.m. local time.
Wooing Congress
Duterte, 71, took office on June 30, inheriting an economy that grew faster than China in the first quarter and won its first investment-grade credit rating under former President Benigno Aquino. Growth will probably reach 6 percent to 7 percent this year, Budget Secretary Ben Diokno has said, a little higher than last year. The country though faces its fair share of headwinds, with one in four Filipinos living in poverty.
The new leader plans to pursue policies that will create jobs, boost growth and lead to higher credit ratings, Finance Secretary Carlos Dominguez said last month. To do so, he'll need the backing of congress, where his party has only a handful of lower house seats out of 297. He will have to rely on party coalitions to get legislation through.
For an explainer on the Philippines under the new president, click here
"The president can only propose economic and political programs but it's congress that appropriates the funds," said Benito Lim, a political science professor at Ateneo de Manila University. "Without the money, his vision for the country will be useless."
A Social Weather Stations survey of 1,200 people late last month found 22 percent of respondents expect Duterte to fulfill "all or nearly all" of his promises, while 41 percent said he could fulfill "most" of them, BusinessWorld reported Monday.
Senator Aquilino Pimentel, who heads Duterte's PDP-Laban party, was elected senate president at the opening of congress on Monday while Congressman Pantaleon Alvarez was voted house speaker. The Philippine Stock Exchange Index rose 0.7 percent in Manila. The gauge has jumped 12 percent since Duterte declared victory on May 10, standing just shy of a record.
Trust Rating
Duterte, who received a 91 percent trust rating in a Pulse Asia Research Inc. July poll, is expected to report his anti-crime achievements while defending a recent spate of drug-related killings by police. His speech is also likely to focus on these points:
Details of his push for a shift to a federal system to give regions outside Manila a greater share of national resources
Emergency powers to resolve Manila's traffic woes
Review of foreign ownership limits imposed by the constitution on certain industries to make the country more attractive to investors
Changes that will adjust tax brackets, cut personal and corporate income tax rates and broaden the collection base
Re-imposition of the death penalty for crimes including rape, serious kidnapping, murder and drug dealing
Addressing bottlenecks in public-private partnership projects and boosting infrastructure spending
Improve transparency and accountability by giving greater public access to state documents


Duterte will probably keep the rhetoric about tensions with China over the disputed South China Sea to a minimum, his spokesman Ernesto Abella said.
"He does say we will proceed from the fact that the ruling has been in our favor but we will proceed diplomatically and examine all routes," he said, referring to a recent decision by a tribunal in The Hague that dismissed China's claim to exclusive rights to a large part of the waterway.
Before it's here, it's on the Bloomberg Terminal.
LEARN MORE