Green Responsible for 'Tragedy' of BHS Collapse, Lawmakers Say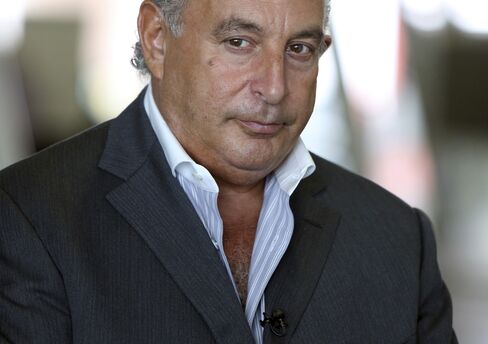 Green rushed through sale after failing to invest in chain

Failure is 'unacceptable face of capitalism,' U.K. report says
Philip Green, the British retail billionaire, is ultimately responsible for the collapse of BHS, the retail chain he sold for a pound to an unsuitable buyer in 2015, U.K. lawmakers said.
After hearing from dozens of witnesses, two committees said Green's systematic extraction of hundreds of millions of pounds and under-investment in BHS left the business and its pension fund weakened to the point of "inevitable" collapse. The demise put 11,000 jobs at risk and endangered the retirement savings of 20,000 people.
BHS's fate was sealed when Green rushed a sale to Dominic Chappell -- an unsuitable and incompetent owner, lawmakers said in a report published in London. The disposal ended a "sorry litany of failures of corporate governance and greed."
The actions leading to the demise of BHS represent the "unacceptable face of capitalism" and lawmakers said they will seek to address questions about the gaps in company law and pension regulation in new inquiries. "The tragedy is that those who have lost out are the ordinary employees and pensioners," they said. The chain, which went into administration in April, is in the process of closing its 163 U.K. stores.
'Buck Stops'
While Green sought to blame everybody else for the failure, the "buck stops with him," Frank Field, chair of the Work and Pensions Committee, said by e-mail. "What kind of man is it who can count his fortune in billions but does not know what decent behavior is?"
Green's failure to make significant payments into BHS's pension fund saw its deficit spiral to 571 million pounds ($749 million). The billionaire pocketed 420 million pounds in dividends before selling the chain in 2015 for a pound to Chappell, a race-car driver with no retail experience. Green owned BHS for 15 years.
Green's conduct has prompted the U.K. government's cabinet office to review whether there are grounds to strip him of his knighthood, awarded a decade ago, Jim McMahon, a lawmaker in the opposition Labour Party, said on Twitter last week.
Green -- one of the U.K.'s most recognizable businessmen -- owns a range of fashion chains including TopShop and Miss Selfridge. Born in London, Green has amassed a personal fortune of $3.5 billion, according to the Bloomberg billionaires index. He is now a resident of Monaco.
Green said in June that he's working on a plan to resolve BHS's pension deficit. A spokesperson for the retail tycoon declined to comment on the report's findings.
Bankers, Auditors
In addition to Green and Chappell, lawmakers probed senior bankers at Goldman Sachs International who advised Green, along with an array of auditors and lawyers, BHS executives and pension regulators. The evidence at times resembled a "circular firing squad," lawmakers said, with a series of key witnesses seeking to absolve themselves by blaming others.
While Green and Chappell both took cash from BHS for personal gain during their tenures, advisers and other "hangers on" also enriched themselves as the company was failing, lawmakers said.
The report, from the Work and Pensions and the Business, Innovation and Skills committees, marks the second time in a few days that U.K. lawmakers have rebuked a senior member of the country's retail establishment for disregarding the welfare of their staff. Sports Direct's billionaire founder Mike Ashley was admonished on Thursday for his role in allowing "appalling" working conditions to prevail in the company's warehouse.
BHS, formerly known as British Home Stores, opened its first shop in Brixton, south London, in 1928.
Before it's here, it's on the Bloomberg Terminal.
LEARN MORE