Perpetual Bond Book in Japan on Sale for $934 Post Bernanke Trip
Price for out-of-print publication have spiked higher

Surge in interest in perpetual-bond idea amid BOJ debate
Book sellers in Japan are trying to cash in on the recent talk of perpetual bonds, which have become a hot topic after reports that former Federal Reserve Chair Ben S. Bernanke discussed the idea with an adviser to Prime Minister Shinzo Abe.
A used paperback called "The Study of Perpetual Bonds" was selling for as high as 100,000 yen ($934) on Friday in Tokyo on the Amazon.co.jp website. The book sold for 1,028 yen when it was published in 2009, according to Naoyuki Kuge, an online seller of the book.
The price for second-hand copies on Amazon was well below 10,000 yen for the past five years before suddenly spiking up this year, according to website Camelcamelcamel.com, which tracks price data on the site.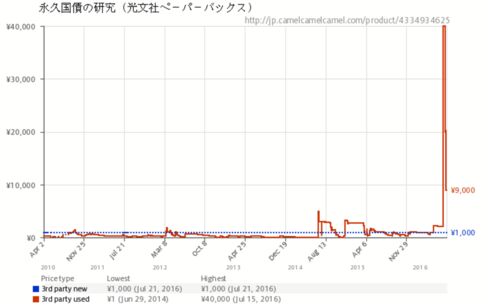 Attention around the book seems to be growing, according to Kuge, who is trying to sell his copy for 20,257 yen. When he put it on the site on July 9, there was only one other seller. Now there are four.
For a QuickTake explainer on helicopter money, click here
There were 8,500 copies of the book printed in 2009 and there are no plans to print it again, according to the public relations department of publisher Kobunsha Co.
Before it's here, it's on the Bloomberg Terminal.
LEARN MORE