Zimbabwe 'Bond-Note' Printing Linked to Exports, Minister Says
Government printing notes with equivalent dollar value

Exotix sees government building reserves of hard cash
The extent of the Zimbabwe government's system of printing notes with equivalent U.S. dollar values will be decided by volumes of exports from the southern African nation, its finance minister said.
Zimbabwe will introduce what the central bank calls bond notes in October to counter a shortage of cash in the country. Exporters will be paid with the notes, credited to accounts at the central bank held on behalf of the companies, along with a 5 percent bonus that the minister, Patrick Chinamasa, said the government is happy to pay to encourage outbound trade.
"Unless there are exports, there would be no circulation in the market of any notes," Chinamasa said in a July 17 interview in the Rwandan capital, Kigali. "No exports -- no issuance of bond notes." The notes, to be produced in Germany, will be printed "relative to the volume of imports," he said.
Zimbabwe implemented a multi-currency system in 2009 after its economy collapsed. As well as the dollar, the country allows the use of currencies including the South African rand, the yuan, the pound and the euro. While that tamed inflation -- said by the International Monetary Fund to have reached 500 billion percent in 2008 -- it also left the government short of cash to pay civil servants and buy essential imports.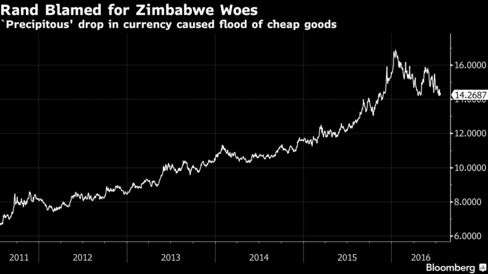 "This approach will allow the government to raise a significant pool of cash while exporters continue to export," Mukuru said.
Before it's here, it's on the Bloomberg Terminal.
LEARN MORE