Yen Bulls Dig In Seeing Fed Outweigh BOJ Helicopter Money Debate
Strategists turned bullish yen first time in more than a year

Fed policy is the main determinant of yen's direction: Mizuho
Strategists forecasting the yen will post its first annual gain since 2011 are standing their ground in the face of a rout driven by speculation the Bank of Japan will expand record stimulus.
The yen remains this year's strongest major developed currency even after a 2.4 percent tumble this month following Ben S. Bernanke's visit to Tokyo last week, which spurred speculation the BOJ would directly finance government debt -- a policy known as helicopter money. The yen climbed the most in almost a month on Thursday after BBC Radio 4 broadcast an interview with Governor Haruhiko Kuroda, that was recorded on June 17, in which he said there is no need and no possibility of introducing such a policy.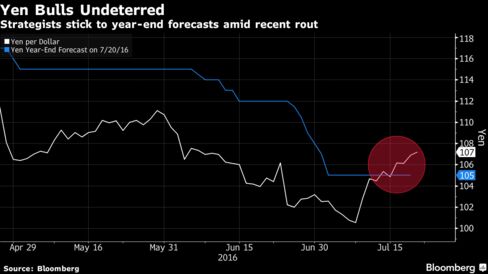 "Helicopter money, which has been debated in public without anybody clarifying the definition, was used merely as an excuse to unwind speculative yen buying," said Daisuke Karakama, chief market economist in Tokyo for Mizuho Bank Ltd. "Market focus will now return to fundamentals and monetary policy, and confirm the yen's appreciating trend."
Fed Outlook
The frenzy of speculation that Japan will get fresh fiscal and monetary stimulus may have spurred investors to focus on the wrong central bank meeting for next week, according to Deutsche Bank AG and Mizuho. What the Federal Reserve says July 27 about U.S. interest rates may have more impact over the longer term on the yen than any expansion of BOJ stimulus. Some have said Kuroda's policies are already tantamount to helicopter money.
For a QuickTake explainer on helicopter money, click here.
Analysts estimate the yen will end the year at 105 per dollar from 105.71 as of 2:31 p.m. in Tokyo, while options show bullishness on the currency remains near levels unseen since it climbed to a record in 2011.
Kuroda, in the BBC Radio 4 interview, repeated that he is determined to rid Japan of its deflationary mindset and that there are no significant limitations to further monetary easing.
"The basic idea of helicopter money is to combine fiscal policy with monetary policy," he said. "In developed countries, basically fiscal policy is decided by the government and the parliament, while monetary policy is decided and implemented by the central bank, which is independent from the government. So I don't think at this stage we should abandon this institutional setting -- no need and no possibility for helicopter money."
Deutsche Bank Bullish
Deutsche Bank, the world's fourth-biggest foreign-exchange trader, says a lack of market consensus on whether the Fed can raise U.S. interest rates this year means the yen's upside is greater than the downside. There's more probability of the yen rallying beyond 100 in coming months than it weakening past 110, according to Taisuke Tanaka, the bank's chief currency strategist and head of fixed-income research in Tokyo. He forecasts the currency will end September at 97 and finish the year at 94.
"If the BOJ strengthens the de-facto helicopter money when expectations are rising for a September of December U.S. rate hike, the yen may drop further," Tanaka said last week. "But if hike expectations are retreating, the dollar's weakness will prevail and the yen's weakness won't be sustainable."
Mizuho Bank, Japan's third-largest lender, said the yen could strengthen toward 90 as the country's recovering current-account surplus sustains demand for the currency.
Yen Premium
While hedge funds have pared yen-bullish bets, they are still long after the U.K.'s vote to leave the European Union helped drive the currency to 99.02 on June 24, its strongest since November 2013. The Japanese currency erased all of the post-Brexit surge at one point after Bloomberg reported that Bernanke had floated the idea of perpetual bonds in discussions in Washington in April with one of Prime Minister Shinzo Abe's key advisers.
The premium for three-month options to buy the yen versus the dollar, over the cost of contracts to sell, was 1.78 percentage points on Friday. That compares with 2.76 in June, which was the most since July 2010, according to risk-reversal prices compiled by Bloomberg.
With the yen weaker than 100, the BOJ has no incentive to do something drastic at its policy meeting ending July 29, said Tohru Sasaki, head of Japan markets research in Tokyo at JPMorgan Chase & Co. and a former BOJ official. Helicopter money should be discussed in the context of a one-time measure that would have a long-lasting impact to the economy, not something to counter the current economic deterioration, he said.
Helicopter Money
Yoichiro Yamaguchi, Sumitomo Mitsui Banking Corp.'s head of research, said it would be unrealistic to expect the BOJ to directly underwrite government bonds because that would require a change in law. The central bank currently buys the debt indirectly in the secondary markets from investors, providing an anchor to fiscal discipline, he said.
"If this indirect route is removed, it would trigger a loss of confidence in fiscal consolidation and lead to bad inflation and a weak yen," Yamaguchi said.
The key determinant of the yen's direction is Fed policy, Mizuho's Karakama said. The currency could strengthen to levels unseen in more than three years if the central bank refrains from raising rates, he said.
While U.S. data have been beating forecasts, futures contracts indicate a less than even chance the Fed will raise rates this year.
"It became clearer as time passed that the Fed won't be able to raise rates this year probably because the dollar is too strong," Karakama said. "The yen historically hasn't held a weakening trend when the U.S. failed to raise rates successively. It's highly probable for the yen to settle around 90 per dollar."
Before it's here, it's on the Bloomberg Terminal.
LEARN MORE