Stock Picker Wahei Takeda, Dubbed Japan's Buffett, Dies at 83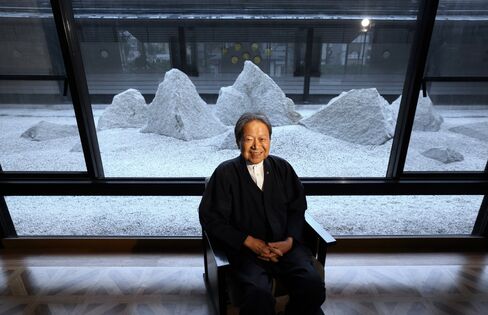 Wahei Takeda, a cookie tycoon who was known as Japan's Warren Buffett for his six decades of stock picking, has died. He was 83.
He died on Thursday at his home in the city of Nagoya, according to Eri Sanada, a spokeswoman for Takeda Honsha KK, one of his firms. Local newspaper Chunichi Shimbun reported the news earlier.
One of Japan's best-known individual investors, Takeda had been buying equities since 1956 after a stockbroker friend encouraged him to take the money he had made selling pineapple-cream cookies and put it in shares. Takeda also founded a company manufacturing Tamago Boro, small round egg biscuits that are typically given to babies in Japan.
Takeda had top 10 stakes at more than 100 companies valued at 30 billion yen, making him Japan's No. 1 individual investor, the Nikkei newspaper reported in 2006. In an interview with Bloomberg News in 2014, Takeda said he was paring back his equity investments to focus on companies with high return-on-equity, a measure of profit relative to shareholder capital. He held shares in more than 100 companies in 2011 and was seeking to reduce holdings to just six or seven companies, the investor said at the time.
"There are no stock investors in Japan who wouldn't know Takeda -- he's one of the most famous individual investors and he's been in the market a long time," Seiichiro Iwamoto at Mizuho Asset Management Co. in Tokyo told Bloomberg in 2014.
Before it's here, it's on the Bloomberg Terminal.
LEARN MORE