Currency stuck at $1.10 even after pledge for more stimulus

'Fatigue in terms of what central banks can do,' Manulife says
Euro traders are sending Mario Draghi a clear message: Monetary policy is reaching a dead end.
Just look at how the world's most-traded currency pair has done this year. Its 200-day moving average has been stuck around $1.10, and it has registered the smallest move of any of the major currencies. All the while, Draghi and the European Central Bank delved deeper into negative interest rates and more aggressive bond-buying -- policies that might typically debase the euro.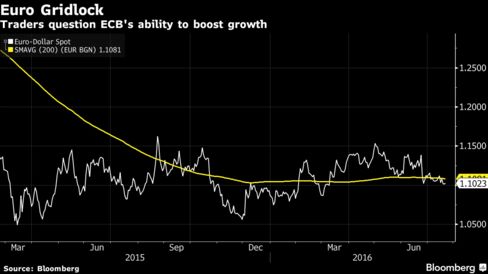 Even after ECB President Draghi stressed Thursday "readiness, willingness, ability" to add more stimulus in coming months, the euro barely budged. The diminishing impact of monetary stimulus has left the currency open to other drivers, such as trade flows and geopolitics. The euro zone's trade flows have thwarted euro bears who rebuilt positions in the past two months, as a record current-account surplus provides underlying support for the single currency.
There's "some fatigue in terms of what central banks can do to control currencies at this point and yes, in terms of what else the ECB may bring to the table," said Chris Chapman, a London-based trader at Manulife Asset Management (Europe) Ltd. "The sizable current-account surplus is also a factor in helping support the euro versus where most people would expect it to be lower."
The euro's resilience against the dollar puts some hedge funds' and other large speculators' bets at risk. Short positions on the currency outnumbered bullish wagers by 87,660 contracts last week, after heading close to net-bullish positioning in May, according to U.S. Commodity Futures Trading Commission data.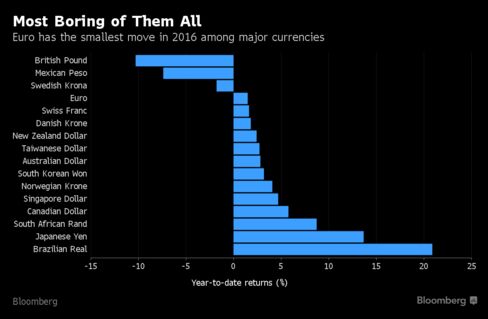 ECB officials, and central bankers from industrialized nations worldwide have admitted monetary easing has its limits in reviving growth and inflation. By contrast, when the ECB first slashed its deposit rate below zero in June 2014, it triggered about a 20 percent slump in the euro during the next nine months.
Since then, the 19-nation euro has stayed more or less in the $1.10 area, even though the monetary authority started buying the region's bonds last year and subsequently expanded the program to include corporate securities. It was at $1.0962 as of 3:06 p.m. in New York.
Strategists don't expect euro-dollar, which accounts for a quarter of all currency trades, to break out of its narrow range anytime soon. It'll fall 2 percent to $1.08 by the end of this year and crawl back to $1.10 by late 2017, according to the median estimates in a Bloomberg survey.
For more on the history of the euro, click here.
A measure of anticipated price swings based on options prices, three-month implied volatility for the euro versus the dollar, was 8.6 percent, close to the lowest level since November 2014.
"There is not much conviction in euro trades these days," said Richard Kelly, head of global strategy at Toronto-Dominion Bank in London. "I'd say euro reactions continue to be wedged between a good current account surplus and an aggressive monetary policy."
Before it's here, it's on the Bloomberg Terminal.
LEARN MORE