AMD Forecast Shows Return to Growth on Improving Products
CEO Lisa Su says she's seeking to build company's track record

Chipmaker posted first year-on-year sales gain since 2014
Advanced Micro Devices Inc. reported quarterly revenue growth for the first time since 2014 and forecast another increase in the current period, showing progress in its struggle for relevance and profit in the computer-processor market.
Key Points
Revenue in the third quarter will rise 18 percent, plus or minus 3 percent, from the $1.03 billion posted in the second quarter, the Sunnyvale, California-based company said in a statement Thursday.
That indicates sales of as much as $1.24 billion and compares with an average analyst estimate of $1.13 billion, according to data compiled by Bloomberg.
Net income in the second quarter was $69 million, or 8 cents a share, compared with a loss of $181 million, or 23 cents, a year earlier. Analysts had projected a net loss of 10 cents a share. Sales climbed 9 percent.

Earnings were boosted by a gain of $150 million related to the formation of a joint venture test-and-assembly business, the company said.
AMD last reported a year-over-year revenue increase in the second quarter of 2014.
The chipmaker's stock had rallied 82 percent this year before today's report. It rose as much as 7.5 percent in extended trading.
The Big Picture
Chief Executive Officer Lisa Su is trying to shake up her company's offerings and reverse market-share losses in computer processors and graphics chips, where it's ceded business to Intel Corp. and Nvidia Corp. Introducing products and moving into markets where it doesn't directly compete with Intel are key to making AMD profitable again and halting a cash burn that some analysts in recent years had projected might cause the company to collapse.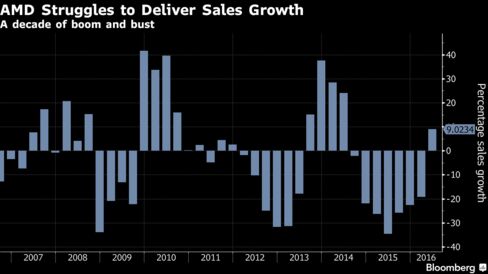 CEO Interview
AMD's Su said she's pleased that the company has begun to show customers and investors that it can bring new products to market when it says it will. Now she's focused on trying to maintain that and field new chips that will take performance leadership from competitors.
"We've made progress. I wouldn't say we're done," Su said via telephone. "We have a lot more to do."

"My goal for the company is to build a track record. The track record is consistent execution. When we say something, you can use that."

"This year it was really important for us to demonstrate that we could launch our products on time. There's been an incredible amount of focus on that."




Before it's here, it's on the Bloomberg Terminal.
LEARN MORE