Nordea CEO Says Turning Point Reached as Outlook Improves
Internal review shows code of conduct not always followed

CEO says bank will meet higher CET1 requirement due end 2016
Nordea Bank AB expects pressure on its lending income to abate as Chief Executive Officer Casper von Koskull predicts the rest of the year will show an improvement in the bank's results.
"Despite low growth and turbulent financial markets, revenues are holding up well," Chief Executive Officer Casper von Koskull said in the statement. "Margin pressure in net interest income is leveling off and we now believe in an inflection point with an improving trend from the second half of 2016. Costs are in line with the plans and credit quality remains solid."
The bank's shares rose as much as 2.4 percent after the open and traded 2.2 percent higher at 75.15 kronor as of 10:22 a.m. in Stockholm.
Net interest income fell 8 percent to 1.17 billion euros ($1.29 billion) in the second quarter, in line with the average analyst estimate, as Scandinavia's biggest bank deals with the continued fallout of negative interest rates. But Nordea's total operating income rose 1 percent. Net income was 996 million euros, compared an average analyst estimate of 952 million euros.
After almost 1 1/2 years of negative central bank rates, Sweden's lenders have struggled to generate revenue growth. The Riksbank this month kept its benchmark rate at a record low of minus 0.5 percent and pushed back tightening plans after Britain's decision to exit the European Union hurt business confidence and darkened the economic outlook across the region.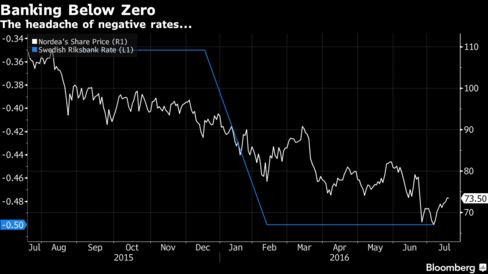 Nordea said its net fee and commission income slipped about 3 percent to 804 million euros, just beating the average 798 million-euro estimate. It had net loan losses of 127 million euros, while analysts had predicted 131 million euros, on average.
The lender's common equity Tier 1 capital was 16.8 percent of risk-weighted assets at the end of the second quarter compared with 16.7 percent at the end of March.
Nordea said its CET1 requirement by the end of the year is likely to be about 17 percent, excluding a so-called management buffer, based on the preliminary outcome of the Supervisory Review and Evaluation Process.
"It is Nordea's assessment that we will meet this requirement including a management buffer of 50-150 basis points," the bank said. A final outcome is expected in September or October, it said.
The capital requirements won't alter Nordea's ambition to increase dividends, von Koskull said during a press conference after the results were published. Reaching the higher buffer demands is "not a concern," he said.
Nordea came under political and regulatory fire this year after being named in the so-called Panama Papers, which alleged the bank had helped clients hide their wealth in offshore accounts with a view to evading taxes.
An internal investigation didn't find any evidence that Nordea employees initiated the establishment of offshore structures or that they proactively contributed to customers' potential tax evasion, though the lender's code of conduct wasn't always observed, according to a separate statement on Wednesday.
"The deficiencies are, to a large extent, of a governance and control nature. Even so I'm comforted by the conclusion that no evidence has been found that Nordea employees have proactively contributed to tax evasion," von Koskull said. "I want to be absolutely clear. We do not accept Nordea being used as a platform for tax evasion or aggressive tax planning."
Swedish authorities are still investigating the lender in connection with its alleged role in helping clients evade taxes and have yet to publish their findings. Nordea said on Wednesday it is also responding to inquiries from the U.S. government on alleged breaches of anti-money laundering rules that have already led to fines in Sweden.
Before it's here, it's on the Bloomberg Terminal.
LEARN MORE