Morgan Stanley Profit Beats Estimates as Bond Trading Gains
Net income declines 5% to $1.58 billion in second quarter

Compensation ratio falls to 45.1%, better than estimate
Morgan Stanley posted profit that beat analysts' estimates as the firm reported a surprise gain in bond-trading revenue and compensation costs that were lower than expected.
Net income fell 5 percent to $1.58 billion, or 75 cents a share, from $1.67 billion, or 79 cents, a year earlier, the New York-based company said Wednesday in a statement. That exceeded the 60-cent average estimate of analysts surveyed by Bloomberg.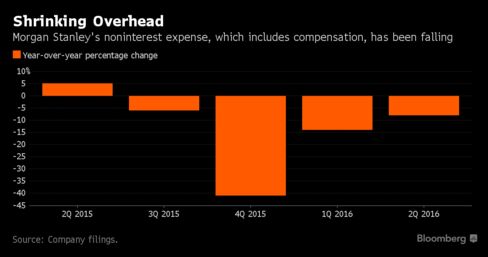 Chief Executive Officer James Gorman, 58, is cutting costs and trying to boost trading and wealth-management returns. He scaled back the struggling bond-trading division last year, and in January set a $1 billion cost-cutting goal. The effort paid off in the second quarter, as the ratio of compensation to revenue fell to 45.1 percent. That beat the 47 percent estimate of Chris Kotowski, an analyst at Oppenheimer & Co.
"We've seen Morgan Stanley cut back and cut back so it's very impressive that we're seeing this fixed-income performance," Brad Hintz, an adjunct professor of finance at New York University's Stern School of Business, said in a Bloomberg Radio interview.
Morgan Stanley climbed 0.6 percent to $28.35 at 10:03 a.m. The stock has dropped 10 percent this year, trailing the 1.1 percent decline for the 92-company S&P 500 Financials Index.
Revenue Beats
Revenue fell 6.8 percent to $8.91 billion, exceeding the $8.31 billion average estimate of 19 analysts. Compensation, the firm's biggest expense, dropped 8.9 percent to $4.02 billion.
Fixed-income trading revenue rose 2.4 percent to $1.3 billion, exceeding analysts' estimates of $1.01 billion. Equity trading was $2.15 billion, a 5.5 percent drop that beat estimates of $2.11 billion.
Gorman said in June that the fixed-income and commodities business is capable of generating $4 billion in annual revenue even after the pullback he initiated, which included a decision to cut 25 percent of the unit's staff at the end of last year.
'Significant Positive'
"Maybe on an annual basis we are closing in on a sustainable and predictable level" for fixed-income revenue, Kotowski said. "That would be a significant positive after years of grinding lower industrywide, but of course one needs more than one quarter to draw that conclusion firmly."
Foreign exchange, commodities and securitized products were areas of strength within fixed income, particularly ahead of the Brexit vote, Chief Financial Officer Jonathan Pruzan said in an interview. Client activity has subsided since then, though foreign exchange could experience bouts of volatility, he said.
"We've got a lot of macro, geopolitical uncertainty which will generally lead to people being on the sidelines and reduction of flows and confidence on the one hand," he said. "On the other, we've seen recoveries in equity and commodities prices, so people are trying to set up for the second half of the year."
Return on equity was 8.3 percent in the second quarter. The firm's target is 9 percent to 11 percent by the end of 2017.
Brokerage Results
Wealth-management revenue slid 1.7 percent to $3.81 billion, compared with the $3.7 billion estimate of Jason Goldberg at Barclays Plc. Investment-banking revenue fell 23 percent to $1.1 billion from a year earlier, matching analysts' average estimate, on a decline in stock and bond underwriting.
Morgan Stanley was alone among big U.S. banks last month in being forced to resubmit its capital plan to gain approval from regulators to increase payouts to shareholders. Gorman said on the conference call he's working "extremely hard" to ensure a successful resubmission later this year.
JPMorgan Chase & Co. kicked off earnings season last week by beating estimates as fixed-income trading revenue and loan growth jumped. Citigroup Inc. and Bank of America Corp. also exceeded estimates, while Wells Fargo & Co.'s results were in line with expectations. Goldman Sachs Group Inc. on Tuesday said net income surged 74 percent on gains in fixed-income trading and debt underwriting.
Before it's here, it's on the Bloomberg Terminal.
LEARN MORE