IMF's Global Gloom Falls Most Heavily on the U.K. Economy: Chart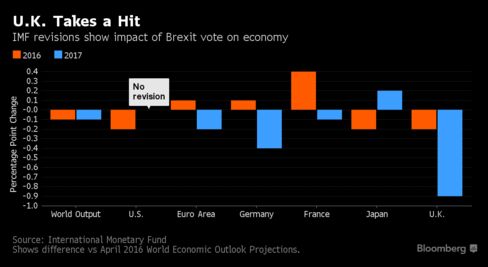 The International Monetary Fund just cut its outlook for the global economy, including lowering its 2016 forecast for a fourth time. The blame lies with the U.K.'s Brexit vote, which the Washington-based fund says "implies the materialization of an important downside risk for the world economy." With Britain at the center of the gloom, it's little surprise where the biggest downgrade occurs. The IMF knocked almost a full percentage point from the U.K.'s 2017 projection, lowering it to 1.3 percent.
Before it's here, it's on the Bloomberg Terminal.
LEARN MORE