Hollande Cautions French on Climate of Fear After Terror in Nice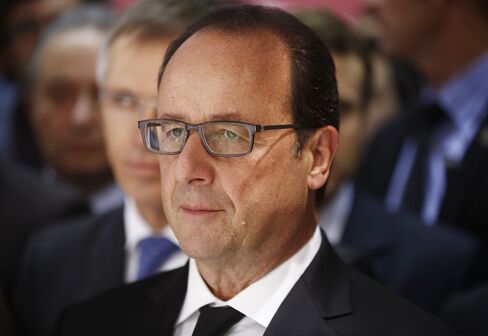 Knife attack, hotel evacuation receive national media play

Sarkozy, Juppe criticize Hollande on security measures
President Francois Hollande urged the French not to give in to panic as minor security incidents get national media play and political debate about his government's counter-terrorism measures intensifies.
Among the incidents receiving widespread attention Tuesday were a woman and her daughters who were hospitalized after a knife attack at a holiday village in the French Alps and the evacuation of a hotel after a client threatened violence.
"Terrorists want to disseminate fear, they want to divide us, to spread a message of hatred, make us rise up against each other and create havoc," Hollande said at a press conference in Lisbon. "My duty is to see that we're united."
Less than a week after 84 people were killed by a terrorist in Nice, French politicians are in fact less united than ever. Unlike in the aftermath of the January 2015 attack on satirical magazine Charlie Hebdo, lawmakers have been split along partisan lines with former President Nicolas Sarkozy and former Prime Minister Alain Juppe blasting Hollande for his failure to keep the French public safe.
Hollande's government is asking parliamentarians to extend the state of emergency for another three months. The National Assembly will debate the extension from 9:30 p.m. Paris time Tuesday. Taking a jibe at the opposition lawmakers who are calling for stronger measures, Hollande said his aim is to extend protection without infringing unduly on personal liberty.
"My duty is to protect France but it's also to maintain a country within its constitutional principles," Hollande said.
Before it's here, it's on the Bloomberg Terminal.
LEARN MORE