Clash of Hedge Funds Redefines Distress in Lightstream Debt Swap
Junior holders cry foul as debtors find deep-pocketed rescuers

Out-of-court accords may lose favor if small investors prevail
In theory, the "distress" in distressed debt is supposed to refer to the issuer, rather than the investor.
That's not the case for Jason Mudrick. The chief investment officer at Mudrick Capital Management LP is sending distress signals about the firm's holdings in unsecured debt of Lightstream Resources Ltd. As things stand, those holdings would be almost wiped out by a rescue plan designed to cut debt by $904 million for the Canadian oil producer.
The plan pits Mudrick's $1.3 billion hedge fund against some of the world's biggest distressed-debt investors at Apollo Global Management LLC and Blackstone Group LP's GSO Capital, who he said negotiated the plan privately with management to get majority ownership.
Such conflicts are becoming more frequent as junk-bond defaults hover at the highest levels in six years, spurring companies to work out deals that avoid bankruptcy. Smaller bondholders that started out in senior positions are finding themselves frozen out of talks and pushed toward the back of the line for repayment when a company becomes distressed and turns to investors with deeper pockets. Holders have also disputed restructurings this year at Cliffs Natural Resources Inc., Vanguard Natural Resources LLC and Chesapeake Energy Corp.
"Larger distressed-debt funds will likely continue to be in the driver's seat when it comes to the negotiation of plans of arrangement that suit their interests, to the detriment of the often smaller, unsecured creditors," said Kyle Kashuba, a partner focused on financial insolvency and corporate restructuring in the Calgary office of law firm Norton Rose Fulbright.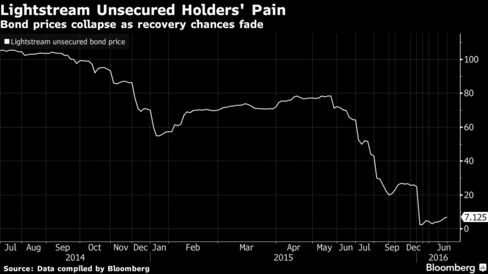 Similar issues arose in U.S. courts in the case of Education Management Corp., a for-profit college owned by private equity giant KKR & Co. Bondholders including Marblegate Asset Management claimed they were wrongly stripped of interest and principal on about $20.3 million in notes after they objected to an out-of-court restructuring. The company argued changes are allowed if the interest and principal aren't altered, but a judge ruled last year for the investors; an appeal is pending.
The concern is that more companies may wind up in bankruptcy if every investor is required to sign off on a deal, according to a report last year by Mitchell Seider, an attorney at Latham & Watkins. In the U.S., the Trust Indenture Act of 1939 theoretically protects investors in these clashes, requiring an independent trustee for the benefit of all parties. Private-equity firms such as Apollo and KKR tried last year to amend the law to make it harder for certain bondholders to challenge out-of-court accords, Bloomberg reported.
Disputed Claims
Mudrick is fuming because he says Lightstream is recognizing invalid claims from Apollo and GSO that resulted from a previous debt swap last year that also excluded his firm. In a July 14 letter to Lightstream's board, a lawyer representing Mudrick, Daniel Fliman, said Lightstream engaged in "backroom negotiations" with Apollo and GSO, which he called "notoriously aggressive hedge funds" intent on stripping value from unsecured holders. Lightstream Chief Executive Officer John Wright didn't keep a promise to avoid a contested reorganization and negotiated exclusively with Apollo and GSO, Fliman wrote.
The latest restructuring agreement "reeks of conflict of interest," Mudrick said in an interview, citing terms that include retaining Wright and letting equity holders keep some of their stake even as bondholders get shortchanged. He's been joined in opposition by another hedge fund, FrontFour Capital Group LLC of Greenwich, Connecticut.
Representatives for Apollo, FrontFour and Calgary-based Lightstream didn't respond to inquiries; Blackstone declined to comment. Lightstream has said that last year's debt swap was allowed by terms of the bonds, and complaints by the dissenters were without merit. Apollo manages about $173 billion in assets and Blackstone, founded by Stephen Schwarzman, has $340 billion, according to their websites.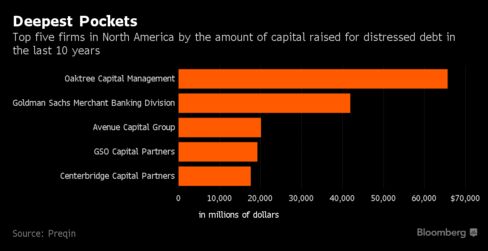 The recovery plan calls for second-lien secured noteholders -- a group that included New York-based Apollo and Blackstone -- to get a 95 percent equity stake. Unsecured noteholders such as Mudrick and FrontFour would be left with 2.75 percent and warrants equal to 5 percent of the shares of Lightstream. Existing shareholders would get 2.25 percent plus warrants equal to a 7.75 percent stake. Lightstream said July 12 the plan was devised in discussions with investors controlling 91.5 percent of its $650 million in 9.875 percent second-lien secured notes.
Two Paths
Lightstream is probably pursuing a restructuring through the Canada Business Corporations Act to stay in control, said Cody Kwong, an analyst at FirstEnergy Capital Corp. in Calgary. A CBCA restructuring gives management more say over the negotiations and final plan than with a Companies' Creditors Arrangement Act process, where a court-appointed monitor takes over.
Lightstream has 2,000 producing wells focused on Alberta and Saskatchewan, according to its website. Total debt was C$1.51 billion ($1.16 billion) in the first quarter, or more than 40 times its recent market capitalization.
With the debt overhang stripped away, Lightstream could continue as a going concern, Kwong said. First-quarter interest costs exceeded C$13 per equivalent barrel of oil, creating a cash flow deficit, compared with C$1 to C$5 for peers, he said.
Buyers Wanted
If the agreement collapses, Lightstream has said it plans to seek a buyer for all or part of the company under CCAA, and secured creditors are committed to bidding. Under CCAA, lawsuits are typically stayed, so going that route could undermine FrontFour and Mudrick's pending court challenge to last year's debt exchange.
TD Securities Inc. has already been hired to solicit potential buyers. A copy of the so-called teaser sales document, obtained by Bloomberg News, says the assets have operating margins of about C$17 a barrel even amid the oil-market slump.
Mudrick said he doesn't see how a restructuring or credit bid could be approved without his firm until litigation surrounding last year's debt swap is resolved, because Mudrick said he holds about 31 percent of the unsecured bonds.
"It's reasonable for companies to talk to their big lenders -- they have to have someone to negotiate with, and for any vote on a restructuring to go through, these are the key investors," said Julia Winters, an analyst with Bloomberg Intelligence and a former bankruptcy litigator. "But for smaller bondholders that are not part of the negotiations, they can be left out in the cold."
Before it's here, it's on the Bloomberg Terminal.
LEARN MORE