China's Curious Craze for Stock Dividends Survives Market Slump
More than 200 Shenzhen firms have announced stock payouts

Popularity shows history as a speculative market: analyst
There's a hot -- and perplexing -- trade in China's moribund equity market: this time it's small companies that are paying stock dividends.
In the first six months of the year, 239 members of the Shenzhen Composite Index announced plans to at least double their outstanding shares by issuing extra stock, data compiled by Bloomberg show. That pace has only ever been matched amid the market boom in early 2015. Investors are rewarding the practice: the companies' shares are up 20 percent on average since unveiling the dividends, bucking the Shenzhen gauge's 12 percent decline this year.
The fact that stock payouts have zero impact on a company's capital position or earnings outlook is doing little to dent their popularity in a market where individuals comprise about 80 percent of equity trading. For Wang Chen, the bonus stocks have a symbolic significance in China that goes beyond their economic value.
"Investors believe that these companies are more likely to do a good job of looking after shareholders," said Wang, a partner with Xufunds Investment Management Co. in Shanghai. "They think that management will push harder to boost share prices and market caps."
Smaller Pieces
Stock dividends effectively cut each shareholders' piece of the company pie into smaller pieces, while leaving the size of their total stake unchanged. Like stock splits, there's no cost to the company and no value transferred to the equity owner -- unless the move attracts an influx of new investors.
To see how the trade works in China, take a look at Jiangxi Huangshanghuang Group Food Co. and Hebei Sitong New Metal Material Co. The producer of instant braised pork rallied 31 percent through Tuesday since announcing plans at the end of June to pay a stock dividend of three shares for each existing one. Hebei Sitong, an alloy maker, was up 97 percent after saying last month it will triple its outstanding stock. Neither company has forecast a significant increase in earnings in the period.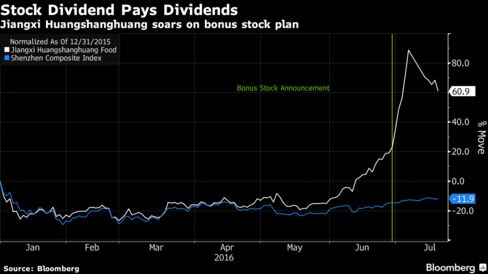 China's army of individual investors has a long-held preference for lower-priced shares. And the nation's industrial giants are being squeezed as the government reorients the economy around services, leaving traders searching for pockets of remaining profit growth that are concentrated in small-cap stocks. Earnings for companies on Shenzhen's board for small- and medium-sized enterprises and the ChiNext market of start-ups increased at least 20 percent in the first quarter, compared with a 2.5 percent drop for big and state-owned ones, according to Citic Securities Co.
Better Liquidity
"Some small companies do this in order to boost the liquidity of their stock," said Ken Chen, an analyst at KGI Securities Co. in Shanghai. "They believe their companies' values will be better reflected if each share is cheaper to buy. And at the same time, they are confident that businesses can grow fast enough to support stock prices without diluting earnings."
Companies that listed within the last five years and have undistributed profits of between 1 yuan and 2 yuan per share are mostly likely to issue bonus stocks, according to Changjiang Securities Co. Chinese accounting standards require companies seeking to pay equity dividends to have some retained earnings.
For fast-growing companies, paying a stock dividend instead of cash gives executives a bigger warchest to fund expansion. Lecron Internet Media Industry Co. proposed in April to give investors 27 stocks for every 10 held, while saying profit jumped 27-fold in the first three months as acquired units contributed to earnings.
Speculative Tradition
Not everyone agrees that it's a savvy strategy. Chen Ruiming, a strategist at Huabao Securities Co. in Shanghai, says investors targeting payers of stock dividends is a speculation game inherited from the early stages of China's markets.
"Paying bonus stocks basically doesn't change anything for companies," said Chen. "China's market simply has a history and tradition of speculating on such stocks."
Fast share-price gains by some companies have drawn attention from regulators. Jiangxi Huangshanghuang Group, the maker of single-serve packets of braised meat, was questioned by the Shenzhen exchange for its proposal to pay 30 bonus stocks for every 10 existing shares.
The company is benefiting from the fast growth of China's instant-food industry, and the stock payout will let investors share in Huangshanghuang's future growth, the firm said in response, adding that first-half profits probably rose as much as 30 percent from a year ago. Wan Mingqi, representative of securities affairs at Huangshanghuang, said Tuesday that the company declined to comment beyond its official response. The stock closed 0.1 percent lower on Wednesday, extending its decline since the exchange query to 15 percent.
Bigger Bonuses
Issuance of bonus stocks has increased in recent years. In the first half of last year, as the Shenzhen Composite soared to an all-time high, a record 270 companies in the city proposed to issue stock that at least doubled the number of their outstanding shares. In the same period of 2014, the number was 159.
"It's a trend that more and more companies are doing," said KGI's Chen. "They are 'concept stocks' in China's markets. As long as it produces a wealth effect, investors jump on it."
— With assistance by Shidong Zhang
Before it's here, it's on the Bloomberg Terminal.
LEARN MORE