Goldman Seen Struggling to End Dive in Fixed-Income Share
Analysts predicted firm regained ground in second-quarter

Then JPMorgan, Citigroup beat estimates on strength in rates
Goldman Sachs Group Inc.'s fixed-income traders were supposed to take back market share in the second quarter, halting years of declines. That now looks harder, after JPMorgan Chase & Co. and Citigroup Inc. blew past analysts' estimates last week.
Goldman's franchise that trades bonds, currencies and commodities -- once fueling record profits -- has dropped behind top U.S. competitors in recent years, leaving its market share in the 12 months through March the smallest since the financial crisis. Analysts predicted the second quarter would mark the end as big investors reacted to market swings. Then JPMorgan and Citigroup posted surprisingly strong results, driven by services in which they typically outdo Goldman.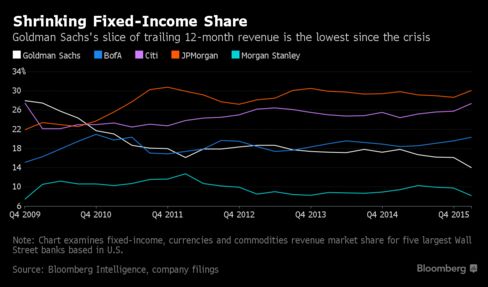 Goldman Sachs's underlying problem goes to the heart of its business. Almost three-quarters of its trading clients are hedge funds, asset managers, banks and brokerages -- a group bruised by market swings and stiffer regulation. Their travails have hurt revenue at Goldman, a specialist in structuring complex bets. In contrast, commercial banks like JPMorgan and Citigroup serve larger numbers of corporations that want relatively simple products like interest-rate swaps and currency hedges to guard against turmoil.
"You have seen a shift over the last couple of years in terms of what products have been more active," said Devin Ryan, an analyst at JMP Securities. "It has not been in Goldman's favor."
Michael DuVally, a spokesman for the New York-based bank, declined to comment before it announces quarterly results Tuesday. Executives at the firm have emphasized they focus on generating strong returns, not just increasing revenue. Its average return on equity of 8.8 percent between 2011 and 2015 ranked second among nine of the world's largest investment banks, according to a presentation.
Goldman's securities division, led by Isabelle Ealet, Pablo Salame and Ashok Varadhan, generated $5.6 billion in fixed-income revenue in the 12 months through March, amounting to just 14 percent of the total at the five biggest U.S. banks on Wall Street, according to data compiled by Bloomberg Intelligence. JPMorgan drew 30 percent, while Citigroup booked 27 percent.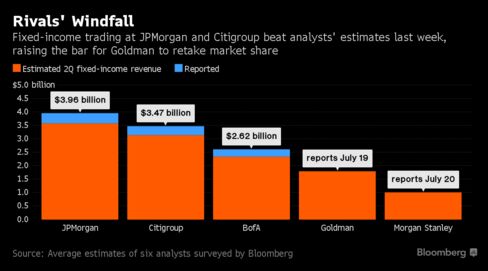 Analysts estimate Goldman will post $1.8 billion in fixed-income revenue Tuesday. That would have outpaced growth at every rival, boosting its market share to 15 percent for the year through June. But JPMorgan upped the ante last week, saying revenue from the business surged 35 percent to $3.96 billion after a "strong performance" in interest rates and currencies. Bank of America Corp.'s rose 22 percent to $2.62 billion and Citigroup's climbed 14 percent to $3.47 billion.
Goldman Sachs's struggles show how idiosyncrasies within Wall Street's elite club of fixed-income titans can mean the difference between billions of dollars in revenue. Over time, it's more than just a case of a challenged customer base. It's a challenged business model.
Hedge funds have fallen out of favor after many failed to protect clients from violent market swings. That led 84 percent of investors to pull money from those managers in this year's first half, though some are waiting to reinvest once markets settle down, according to a Credit Suisse Group AG study. Actively managed mutual funds, another key Goldman client, are battling the rise of exchange-traded funds and other passively managed vehicles.
"What Goldman excels at is providing expertise in difficult investment decisions," said Marty Mosby, an analyst at Vining Sparks in Memphis, Tennessee. "They haven't ever really wanted to be one of the big bulky banks selling products like widgets. They want to add value."
Goldman Sachs's leadership is aware of the disadvantage it faces. In April, Chief Financial Officer Harvey Schwartz acknowledged as much, saying larger commercial banks "will naturally participate in some flows that, given their size, we won't."
'Bull Case'
A month later, President Gary Cohn tried to show the firm is reacting, describing an effort to add corporate clients. It served 12 percent more companies and asset managers last year than in 2011, while the number of hedge funds and banks fell 7 percent. Clients are showing more interest, "particularly in flow products," he said.
Meantime, Goldman's leaders have urged patience. In January, Schwartz laid out a "bull case" for fixed income, and in April Chief Executive Officer Lloyd Blankfein and Cohn told shareholders in an annual letter that "it is important to remember that cycles do turn, even if the timing of such inflections may be difficult to predict."
The firm now maintains a bigger role in commodities trading than most of its main competitors after U.S. regulators and a Senate subcommittee raised concerns about the risks posed by banks' physical commodities operations. In 2015, Goldman's commodities trading business ranked No. 1 for the second straight year, according to data from Coalition Ltd.
But there are cracks in its resolve. Goldman has reported at least four rounds of job cuts this year to New York state labor regulators. More than 400 people are being dismissed, including traders and salespeople in the securities unit, according to regulatory filings. In fixed income, it has extended cuts to roughly 10 percent of staff, double what it normally culls each year.
Shifting Quietly
UBS Group AG's Brennan Hawken suggests the bank's talk of standing by fixed income masks a larger restructuring as the company directs investment dollars to businesses such as equities trading.
"Why would Goldman want to signal clearly to competitors how it was shifting its business?" Hawken wrote in a May 2 report. "It is our sense that investors have recently viewed the declines in its FICC business as a liability for Goldman, but we believe this is not the whole story."
If Goldman's core clients don't snap out of their funk, Blankfein may need to take more drastic actions, such as those ultimately undertaken by one of its biggest rivals, Mosby said. In 2010, Morgan Stanley CEO James Gorman pushed his firm into more head-to-head matchups with commercial banks in currency and interest-rate trading, boosting staff by 20 percent or more in both areas.
By last December, the division was still struggling. It announced plans to cut 1,200 employees, including about 25 percent of traders.
Before it's here, it's on the Bloomberg Terminal.
LEARN MORE