Economists Cut German Yield Forecasts After U.K.'s Brexit Vote
Ten-year yield seen at 0% by year-end, from 0.5% previously

Downward trend in yields 'more pronounced': Commerzbank
The U.K.'s vote to leave the European Union has prompted economists to reduce their forecasts for benchmark German government bond yields by year-end.
Germany's 10-year bund yields will be at zero percent by Dec. 31, according to the median estimate in a Bloomberg survey of 20 economists, with five predicting it will be below that level. In a previous survey last month, prior to Britain's June 23 referendum, analysts predicted a yield of 0.5 percent by year-end. The median forecasts for all the periods covered by the most recent survey tumbled by at least 40 basis points from the estimates in June.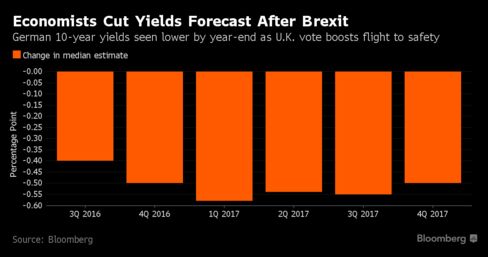 "The global downward momentum on yields on the back of the Brexit uncertainty is going to be more pronounced," said Christoph Rieger, Frankfurt-based head of fixed-rate strategy at Commerzbank AG, which reduced its year-end forecast for German bund yields to zero percent, from a 0.2 percent prediction in a June survey. "All major central banks will be in easing mode, except for the Fed," he said, referring to the U.S. Federal Reserve. "This was not discounted beforehand."
Government bonds from high-rated nations surged in the aftermath of the Brexit vote as speculation that the U.K.'s decision to leave the world's largest trading bloc will damp global growth drove demand for the safest assets. Investors are also being encouraged from signals by central bankers that they stand ready to boost stimulus.
Benchmark German 10-year bund yields climbed above zero last week for the first time since June 24, having dropped to a record-low minus 0.205 percent on July 6. The nation auctioned 10-year debt with a negative yield for the first time last week.
For the survey results, click here.
Yields on Japanese, Swiss and U.S. sovereign debt also fell to unprecedented levels in the past few weeks. The yield on $9.2 trillion, or around 35 percent, of securities that comprise the Bloomberg Global Developed Sovereign Bond Index is less than zero.
German 10-year yields are forecast to rise to 0.5 percent by the end of 2017, according to the median estimate in this month's survey. That compares with a forecast of 1 percent in the June survey.
Benchmark German 10-year bunds advanced Monday, with the yield falling three basis points, or 0.03 percentage point, to minus 0.023 percent as of 4:08 p.m. London time. The zero percent security due in August 2026 rose 0.295, or 2.95 euros per 1,000-euro ($1,108) face amount, to 100.235. The yield climbed 20 basis points last week, the biggest increase this year.


Before it's here, it's on the Bloomberg Terminal.
LEARN MORE