Gulen-Linked Stocks Face Squeeze as Erdogan Blames Rival: Chart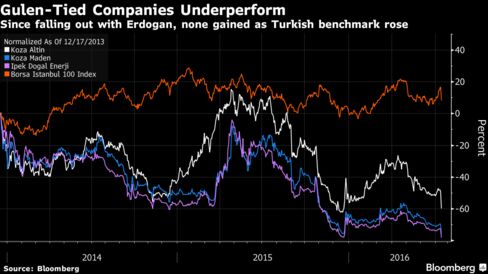 Turkish companies with suspected ties to U.S.-based Islamic preacher Fethullah Gulen have underperformed the Borsa Istanbul 100 Index since the cleric's rivalry with President Recep Tayyip Erdogan became public in late 2013. The stocks and the benchmark dropped more on Monday after Erdogan's followers blamed Gulen for Friday's coup attempt and the president said the plotters "will pay a heavy price for their treason." Trading in Gulen-linked Bank Asya was suspended Friday and its operations were halted Monday.
Before it's here, it's on the Bloomberg Terminal.
LEARN MORE