Treasuries Post Biggest Weekly Loss in a Year on Retail Gains
U.S. economic data push 10-year yield to highest since June

Bonds pares losses after Turkey's army says it seizes power
The brightening economic outlook pushed Treasuries lower this week, with benchmark 10-year yields registering their biggest increase in more than a year.
Three weeks after the U.K.'s vote to leave the European Union sparked a flight to safety that pushed developed-nation yields to record lows, U.S. economic data are beating analysts' predictions by the most in 18 months. The latest evidence: sales at U.S. retailers rose more than forecast last month, while a core measure of price growth accelerates. Ten-year notes trimmed losses in late trading Friday after Turkey's army said it seized power. Prime Minister Binali Yildirim said his government is still in control and will resist.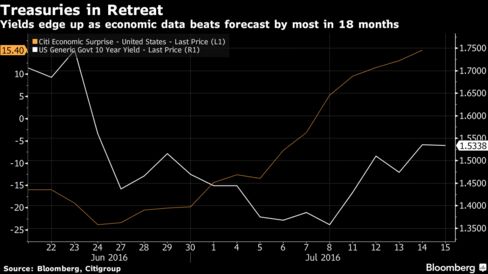 "Economic data continue to surprise on the upside, that's really the main thing," said Thomas Roth, senior Treasury trader in New York at MUFG Securities Americas Inc. "We've gone from Brexit fear of a disaster to looking at the numbers, and the numbers are good."
The benchmark 10-year note yield rose about two basis points, or 0.02 percentage point, to 1.55 percent as of about 5 p.m. in New York, according to Bloomberg Bond Trader data. The yield climbed 19 basis points this week, for its largest weekly jump since June 2015. The price of the 1.625 percent security due in May 2026 was at 100 21/32.
Yields slid to a record 1.318 percent on July 6.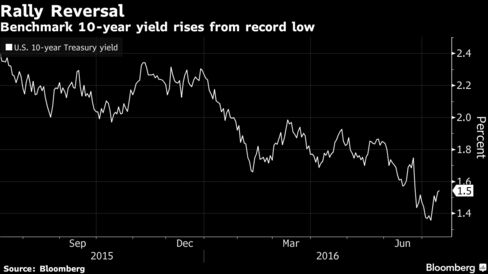 Citigroup Inc.'s U.S. Economic Surprise Index, which measures whether data beat or miss forecasts, rose to the highest since January 2015.
Commerce Department figures released Friday showed a 0.6 percent increase in June retail receipts, which exceeded the highest estimate in a Bloomberg survey. The core consumer price index measure, which excludes food and fuel costs, increased 2.3 percent from June 2015, up from a 2.2 percent pace in May.
The securities in the Bloomberg Global Developed Sovereign Bond Index have an average yield of 0.46 percent, rising from the record-low of 0.39 percent on July 8.
For more on the outlook for U.S. Treasury yields, click here.
The probability of an interest-rate increase from the Federal Reserve this year has edged up in recent days, though there's still just a 38 percent prospect priced into futures -- down from 50 percent when the U.K. voted on its EU membership on June 23.
Investors say this suggests U.S. policy makers want to tighten policy gradually in order not to choke off growth. The Federal Open Market Committee is scheduled to next meet July 26-27 and the gathering won't be followed by a press conference.
Fed officials James Bullard, Dennis Lockhart, Esther George and Patrick Harker all said in comments over the past few days that Brexit doesn't present a big near-term risk to the U.S. economy. A report July 8 showed a solid rebound in the labor market in June following a dismal May.
"Our guess is maybe they hike once or twice in the next year or so," Mike Collins, who helps manage the $15.9 billion Prudential Total Return Bond Fund, said in an interview on Bloomberg Television.
The events in Turkey boosted demand for haven assets. The prime minister said army units have besieged "some institutions," and he said police -- traditionally closer to his government than the army -- have been ordered to use arms if necessary.
"There are two big unknowns that have led the market to move into a risk-off posture -- what this means for global sentiment and whether this will exacerbate volatility in the Middle East," said Gennadiy Goldberg, an interest-rate strategist in New York at TD Securities (USA) LLC. "In either case, it appears that both have encouraged the traders remaining at their desks to position more defensively."
Before it's here, it's on the Bloomberg Terminal.
LEARN MORE