First Person: 'My Adopted Home Had Been Struck Yet Again'
Passing whims can be life-altering in terror-stricken France

A truck plowed through a holiday crowd, killing at least 80
It was pure fate, chance luck, that I avoided being caught up in the July 14 massacre in Nice. As a Paris resident, it was my second fortunate escape in less than eight months.
The streets were already gridlocked when my wife and I arrived on the train around 4 p.m. Thursday to spend a long weekend with friends in this picturesque French Riviera city for the July 14 Bastille Day holiday.
The Promenade des Anglais, the seafront road and walkway that's the city's main thoroughfare, was closed in preparation for the evening's fireworks, our Uber driver said. He wasn't sure the event would actually happen. The wind had picked up, raising the risk of brush fires in the dry hills above Nice from stray sparks, and if it stayed windy the display would have to be canceled.
We actually hadn't even realized that there would be fireworks, but when we arrived at our friends' apartment about 800 meters (2,625 feet) from the end of the promenade, we discussed the likelihood of the wind dying down, what time the event would start and what time we would have dinner.
On a passing whim, I privately entertained the idea of suggesting that we all go down there and enjoy the festivities.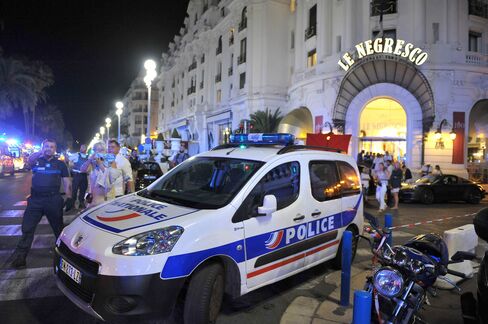 In the end, inertia set in. We caught up with our friends over a Thai dinner and a bottle of Provencal wine, and never made a move to go out to see the fireworks, which we heard and served as soundtrack to our conversation.
Then our phones began ringing. First a friend in the area left a message which I thought was odd. Then came the call from a colleague in Paris. We learned that a man in a truck had mercilessly mowed down revelers on the promenade, killing at least 80 people. My adopted home of France had been struck yet again.
Paris Flashback
The scene on the palm tree-lined promenade a couple of hours later -- police in riot gear with shotguns, camouflage-clad soldiers guarding intersections -- looked eerily familiar to me.
I'd seen the same thing in my Paris neighborhood after the Nov. 13 terrorist attacks that left 130 people dead, including victims at a cafe and pizza restaurant on my street. I'd walked by those businesses just two hours before the attack, en route to dinner with the same friends who we're now visiting in Nice.
One friend in Nice has often said since the Nov. 13 attacks that he wants to avoid big crowds out of fear that they will be targets for a terrorist. I thought he was being overly dramatic. I attended the opening match of the Euro 2016 soccer tournament in Paris last month and felt perfectly safe; but after this latest horrific event, I'm thinking I shouldn't push my luck.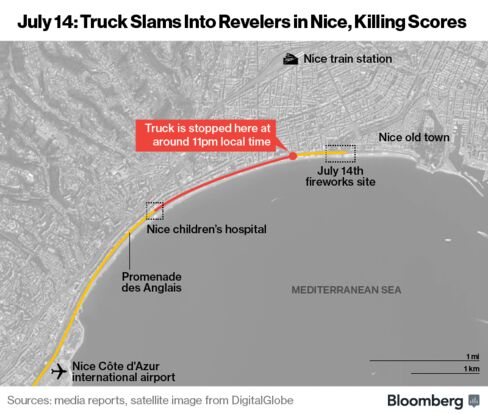 Beyond that, though, both attacks really brought home to me how lives can hinge on the smallest decisions, ones that seem utterly inconsequential at the time. Had I tried to convince my wife and friends to go out to the fireworks, our July 14 would have ended much differently.
Today, thousands of holiday revelers did just that. They gravitated to one of the most celebrated promenades along the Mediterranean to enjoy the night air and watch a fireworks display.
For some, that proved fatal. Such are the times we live in.
Before it's here, it's on the Bloomberg Terminal.
LEARN MORE