Colombian Strike Sends Arabica-Robusta Spread to 17-Month High
Coffee exports from Colombia to fall 50% in July: Asoexport

Wider arbitrage helps support demand for robusta: I&M Smith
A trucker's strike delaying coffee exports from Colombia and the stronger Brazilian real have widened the price gap between arabica and robusta beans to the most in 17 months.
Shipments from Colombia, the second-largest producer of arabica, may fall 50 percent this month as truckers block roads and prevent beans from reaching the ports, said Carlos Ignacio Rojas, president of exporters' association Asoexport. On top of that, the Brazilian real jumped 22 percent this year, reducing the appeal of exports from the world's leading grower of arabica, the variety favored by high-end roasters.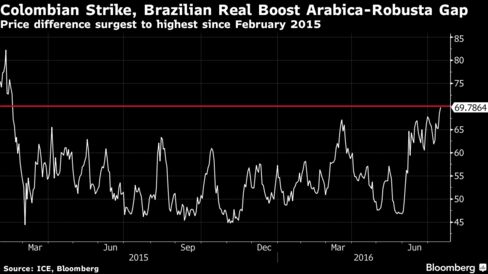 "The ongoing truckers' strike has disrupted Colombian coffee exports," Abah Ofon, a lead analyst at Agrimoney and a former director of agricultural commodities research at Standard Chartered Plc, said in a report e-mailed Thursday. "August exports may also be affected."
Arabica futures were 70 cents a pound higher than robusta by 11:54 a.m. in London, the highest for most-active contracts since February 2015, exchange data compiled by Bloomberg showed. Rising prices of arabica beans are boosting demand for cheaper robusta, helping support the price for the variety used to make instant coffee.
In New York, arabica coffee for September delivery rose as much as 1.6 percent to $1.5465 a pound on ICE Futures U.S., the highest for a most-active contract since February 2015. Robusta beans for the same month gained up to 1.2 percent to $1,864 a metric ton on ICE Futures Europe, the highest since March 2015.
The price difference remains "relatively attractive to roasters" and "continues to inspire support for the robusta coffee sector," trader I&M Smith said in a report on its website Friday.
Coffee prices rallied almost 20 percent this year as the Brazilian real gained. The currency is the best performer in a basket of 31 majors tracked by Bloomberg. The market has also been supported by speculative inflows into commodities, with bets on higher arabica prices climbing to the highest since 2014 in the week ended July 5, U.S. government data showed.
In other markets:
White sugar for October delivery fell 0.4 percent to $542.50 a ton in London. The August contract, which expires today, rose 0.4 percent to $525.70 a ton.
Raw sugar for October slid 0.5 percent to 19.81 cents a pound in New York.
London cocoa for September delivery dropped 0.3 percent to 2,471 pounds ($3,305) a ton. The New York contract for the same month fell 0.7 percent to $3,136 a ton.
The July cocoa delivery in London came to 58,340 tons, with most beans coming from West Africa, the biggest growing region.
Before it's here, it's on the Bloomberg Terminal.
LEARN MORE