BOE's Haldane Signals 'Sledgehammer' August Stimulus Push
Policy makers voted 8-1 to keep rate at 0.5% at July meeting

Agents surveys indicate reduced hiring and investment plans
Andy Haldane said he will probably push for Bank of England stimulus next month, to bolster an economy reeling in the aftermath of the vote to leave the European Union.
Easing will likely be required to "protect the economy and jobs from a downturn" caused by uncertainty that could linger for years, the chief economist said, according to the text of a speech delivered in Port Talbot, Wales, on June 30 and updated to reflect his current view. While he held off voting for loosening this month because of insufficient data, by Aug. 4 officials will be better able to decide the "precise size and extent of the necessary stimulatory measures," Haldane said.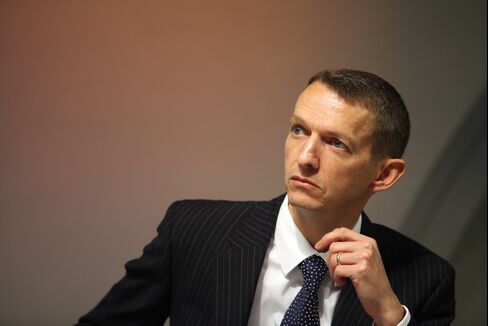 He dismissed the idea that there might be a choice between bolstering growth and risking higher inflation, saying there is "no real policy dilemma."
"I would rather run the risk of taking a sledgehammer to crack a nut than taking a miniature rock hammer to tunnel my way out of prison," Haldane said, drawing a comparison with the lead character in the movie The Shawshank Redemption who takes 20 years to tunnel out of prison. "The MPC does not have that same 'luxury"' of time, he said.
Housing Lead
Surveys by the BOE's regional agents since the referendum indicate a significant number of companies are pausing or reducing hiring and investment plans, while household confidence and property-price expectations are already falling, he said, noting that "where housing leads, the economy often tends to follow."
"Given the scale of insurance required, a package of mutually complementary monetary policy easing measures is likely to be necessary," Haldane said. "This monetary response, if it is to buttress expectations and confidence, needs I think to be delivered promptly as well as muscularly. By promptly I mean next month, when the precise size and extent of the necessary stimulatory measures can be determined as part of the August Inflation Report round."
The pound pared its gains after the speech was published and was 0.4 percent stronger at $1.3394 as of 12:39 p.m. London time, having climbed as much as 1 percent earlier.
JPMorgan changed its forecast from a 25 basis point cut in August to a cut to zero after the speech. "We are now expecting slightly more than we were expecting yesterday," analyst Allan Monks said in a note to clients, who is also predicting a 75 billion pound increase in quantitative easing and the announcement of some credit easing measures.
Haldane and the majority of his fellow policy makers voted 8-1 this week to leave the bank's benchmark rate at a record-low 0.5 percent at their first meeting since the June referendum. Minutes showed most of them expect monetary policy to be loosened at their Aug. 4 gathering, when they will have new forecasts and a press conference to help explain their decision.
'Adverse Consequences'
While officials need to be "mindful of the potential adverse consequences of administering ever-larger doses of the monetary medicine," the chief economist said he did not "think the risk of higher inflation becoming entrenched is especially great."
He also noted that economic prosperity, even before the Brexit decision, was uneven with the benefits of the post-crisis recovery largely concentrated in London and the southeast of England, the already asset rich and those over the age of 50.
Only Gertjan Vlieghe voted for a 25 basis-point cut this week. Haldane was seen as another likely contender to vote for easing, having indicated a preference for loosening in the past. He said officials don't yet have enough data on how the economy is faring in light of Brexit, and will produce their own analysis next month.
"It is still far too early to be drawing strong conclusions on the precise path of the U.K. economy," Haldane said. "At present, we have only the smallest trail of data breadcrumbs on which to base any assessment of how companies and consumers are responding to the referendum news."
However, the U.K.'s current malaise is not a re-run of the 2008-2009 financial crisis, due to a better capitalized and more liquid banking system, Haldane said. In the weeks following the vote the BOE has offered an additional 250 billion pounds ($334 billion) of liquidity and lowered a bank buffer to free up further funds for lending.
"Even though the economy is unlikely to crash, it is likely to slow, perhaps materially, in the quarters ahead," Haldane said. "The main reason for that likely slowdown is uncertainty. And with uncertainty having risen sharply, caution may once more become the watchword for companies and households, as it has for most of the period since the crisis. This increases the incentive to delay making and executing plans."
Before it's here, it's on the Bloomberg Terminal.
LEARN MORE