Xi's Neighborhood Diplomacy Runs Aground in South China Sea
Tribunal's findings undercut China's regional outreach effort

Level of fear and worry toward China 'seems to be rising'
An international tribunal's rejection of China's claim to most of the South China Sea has exposed a problem with President Xi Jinping's "neighborhood diplomacy." It hasn't been very neighborly.
The Permanent Court of Arbitration on Tuesday determined that China's island-building and other efforts to assert control over the disputed waters had "aggravated" tensions, "inflicted irreparable harm" to the environment and "violated" Philippine sovereign rights. It found China had laid claim to large swaths of the waterway where it had no historic rights and infringed on the Philippines' ability to fish.
The ruling, which resulted from a Philippine complaint, showed the shortcomings of Xi's effort to break from the "hide and bide" diplomacy of predecessors since Deng Xiaoping and proactively expand ties with China's neighbors. In the South China Sea at least, the decision has made it harder for China to argue it intends to treat adjacent states "as friends and partners, to make them feel safe and to help them develop," as Xi pledged when announcing his "neighborhood diplomacy" in October 2013.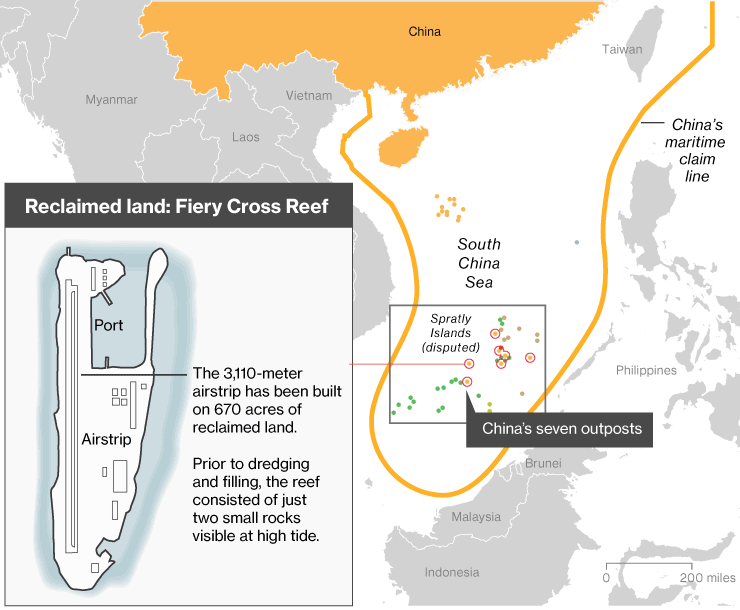 "This is the counterproductive outcome that Beijing has triggered by turning away from Deng's foreign policy blueprint," said Ashley Townshend, a visiting fellow at Fudan University's Asia-Pacific Center in Shanghai, who studies regional security issues. "The legal ruling is another front in terms of the region's push back."
For an explainer on China's maritime ambitions, click here.
There's much at stake for China in its attempts to improve relationships on its periphery as it seeks a greater role in global affairs. The countries of the Asia-Pacific region, many of them direct neighbors, are key focuses of Xi regional initiatives such as the One Belt, One Road infrastructure and trade plan and the Asian Infrastructure Investment Bank.
While many neighboring states have signed up to those efforts, some are wary about China's intentions. The country's attempts to keep the 10-member Association of Southeast Asian Nations from taking a unified stand on South China Sea disputes have begun to backfire.
Lobbying Asean
---
Five Ways China Lost in Tribunal's Ruling on
South China Sea

---
An Asean meeting in the southwestern Chinese city of Kunming ended in chaos last month after Malaysia released -- and then retracted -- a joint statement expressing "serious concerns" over developments in the sea. While ministers agreed on the unusually direct language, the communique was withdrawn after China lobbied Laos, holder of the rotating Asean chair. China's official Xinhua News Agency reported Friday that Laos supported its stance on the South China Sea arbitration.
Still, Asean has not issued a statement on the ruling, with member states putting out individual comments instead. And there's been no indication that Asean nations, for whom as a bloc China is the biggest trading partner, will refuse Chinese investment or risk damaging trade ties.
"We haven't done enough to attract countries in Southeast Asia," said Xue Li, director of international strategy at the government-backed Chinese Academy of Social Sciences' Institute of World Economics and Politics. "On the contrary, the level of fear and worry among them toward China seems to be rising."
'Won't Change'
Even so, don't expect Xi to dramatically shift his approach anytime soon. "Neighborhood diplomacy has moved to the center of the Chinese diplomacy and that won't change, but China can be more cautious and smarter about it," Xue said.
One place where the competing goals of China's foreign policy have been on display is in Indonesia, Southeast Asia's most populous nation. The country granted Xi one of its first OBOR victories -- a $5.3 billion high-speed train project between Jakarta and Bandung -- but criticized China last month for treating Indonesian waters as its own after incursions by Chinese fishing boats escorted by coast guard vessels.
Indonesia 'Delighted'
Indonesia joined China's more vocal critics such as the Philippines and Vietnam in praising the South China Sea ruling. "I'm delighted, because this is maybe the best output for this kind of situation and we hope that it could bring down the tension in the area," said Luhut Panjaitan, coordinating minister for legal and security affairs.
China has rejected the arbitration panel's jurisdiction over the disputes and accused the U.S. of "forming cliques and supporting allies in the region to confront China," as Admiral Sun Jianguo told a security summit last month in Singapore. The country has defended its island-building and military build-up as reasonable responses to similar activities by other countries, as well as the U.S.'s "rebalancing" to Asia.
"The Chinese government is quite happy to basically walk right up the line where people have to punch them to get them to stop," said Nick Bisley, a professor of international relations at La Trobe University in Melbourne. "They will continue to behave in this way and in some respects the fact that the rest of the world says things like, 'China is misbehaving,' well, that is grist for the mill."
Still, Xi has shown some desire to counter perceptions of China as a bully, acknowledging in a 2014 speech to Australia's parliament that some "may naturally wonder how the big guy will move and act and be concerned that the big guy may push them around, stand in their way, or even take up their place." "Neither turbulence nor war serves the fundamental interests of the Chinese people," he said.
To read more about Beijing's South China Sea options, click here
How China responds to The Hague ruling could help demonstrate Xi's commitment to the neighborly side of his agenda. Its options range from passive, such as ratcheting down its activities in the South China Sea, to aggressive, such as building a military installation on the Scarborough Shoal, off the Philippine coast.
In speculating on China's course of action, Shen Dingli, an associate dean of Fudan University's Institute of International Studies, offered a twist on Theodore Roosevelt's maxim to "speak softly and carry a big stick."
"It all depends on what works best for the national interest, " Shen said. "It might be one of those situations where the best result can be achieved when you talk tough, but quietly moderate your behavior."
---

---
Before it's here, it's on the Bloomberg Terminal.
LEARN MORE