Peru Holds Key Rate at 4.25% as Inflation Eases Closer to Target
Policy makers keep rate unchanged for fifth consecutive month

Investment is sluggish, though business sentiment is rising
Peru's central bank kept borrowing costs unchanged after the inflation rate dipped from a high earlier in the year as an investment slump sapped domestic demand.
The central bank board, led by bank President Julio Velarde, held the key rate at 4.25 percent Thursday for a fifth consecutive month, matching the forecast of all 13 economists surveyed by Bloomberg.
The annual inflation rate slowed to 3.34 percent in June, falling from a four-year high in January as the sol's rally against the U.S. dollar cuts the cost of imports. Economic activity increased in April at the weakest pace in almost a year, while lending growth hit a six-year low in May as sluggish investment drags on domestic demand.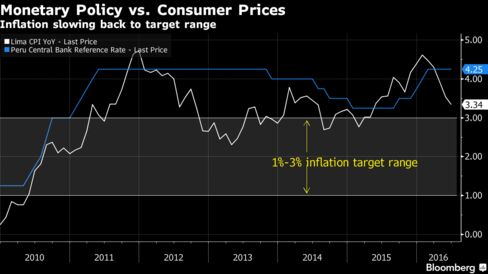 "Policy makers are not under any immediate pressure to resume tightening policy," said Adam Collins, an analyst at Capital Economics in London. Peru's board normally only tightens policy when inflation has risen in the previous month, he said.
Inflation is likely to pick up toward year end as President-elect Pedro Pablo Kuczynski loosens fiscal policy, bolstering economic growth, Collins said. The central bank targets inflation in a range of 1 percent to 3 percent.
Velarde, who has led the board since 2006, on Monday told reporters he accepted Kuczynski's request to serve a third five-year term.
Before it's here, it's on the Bloomberg Terminal.
LEARN MORE