Norwegian's Long-Haul Fleet Size to Surge With A321 Model Switch
Carrier to operate 30 long-distance version Airbus A321 jet

Airline plans to fly 42 Boeing 787 Dreamliners by 2020
Norwegian Air Shuttle ASA is boosting its fleet of long-haul aircraft with a stretched version of Airbus Group SE's single-aisle A320 model series with enough reach to fly across the Atlantic.
Norwegian is switching 30 planes in a two-year-old order for 100 A320neos to a larger, long-range version called the A321neo LR. The model is capable of flying as far as 4,000 nautical miles (7,400 kilometers), making U.S. East Coast destinations, as well as most parts of India, accessible from Europe.
The single-aisle model is cheaper to operate than the 10 twin-aisle Boeing Co. 787 Dreamliners the airline flies today, Chief Executive Officer Bjorn Kjos said Thursday at a briefing in Oslo. Still, the move, which is part of a massive expansion of Norwegian's long-haul operations, means sacrificing the cost advantages of operating aircraft from a single manufacturer.
The shares fell 3 percent to 297.90 kroner at 11:41 a.m. in Oslo. The stock has declined 8 percent this year, valuing the company at 10.6 billion kroner ($1.26 billion).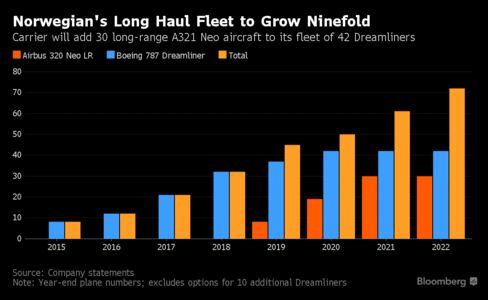 Norwegian also posted second-quarter earnings that beat analyst expectations, with pretax profit more than doubling to 930 million kroner, versus the average estimate of 863.5 million kroner. Unit costs excluding fuel expenses rose 7 percent as Norwegian leased more planes with crews. The full-year figure will total about 0.38 krone including fuel, the airline said, up from an earlier forecast for 0.37 krone.
The carrier plans a Dreamliner fleet of 42 aircraft by 2020, while it will start taking delivery of the A321neo LRs in 2019. The Airbus planes will carry 220 seats in a single class. Norwegian estimated in a presentation that the single-aisle models will be 40 percent cheaper per trip to operate than wide-body airliners.
Before it's here, it's on the Bloomberg Terminal.
LEARN MORE