Helicopter Ben's Visit Spurs Biggest Yen Drop in 17 Years: Chart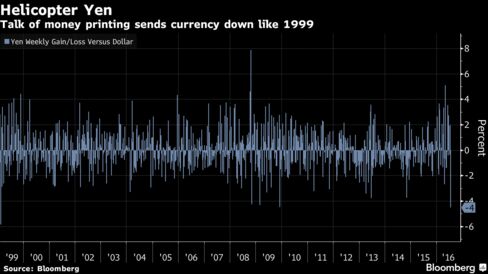 Former Federal Reserve Chairman Ben Bernanke's visit to Japan this week set off frenzied speculation that sent the yen tumbling toward its steepest weekly slide since February 1999. The latest slump was set off by bets fresh fiscal stimulus planned by Prime Minister Shinzo Abe will be complemented by expanded monetary easing when the Bank of Japan meets July 29. That would align with the "helicopter money" program -- in which the government issues non-marketable perpetual bonds with no maturity date and the central bank directly buys them -- that Bernanke floated to a key Abe adviser in April.
Before it's here, it's on the Bloomberg Terminal.
LEARN MORE