After Cleaning Up on Russia Bonds Deutsche Investor Gets Uneasy
Trading shows rate-cut expectations overblown, Hartmann says

June inflation risks upsetting easing cycle just as it starts
Loading up on Russian government bonds in 2015 as oil crashed paid off for Joergen Hartmann this year as his fund topped peers, a victory that by his own reckoning is fragile.
The manager of Deutsche Asset Management's DWS Russia Bond Fund says a rally in the nation's debt is running out of steam because it assumes interest-rate cuts that have yet to transpire. Putting almost two-thirds of the fund in government bonds generated a return of 26 percent in the first half, the most among 60 Russia peers tracked by Bloomberg. At the start of 2015, corporate debt less sensitive to rate policy accounted for more than half the allocations.
"The speed of the rally that we have seen this year isn't likely to continue at such a pace," Hartmann said by phone from Frankfurt. "Unless there are aggressive rate cuts, and it doesn't look like that at the moment, ruble rates should range trade."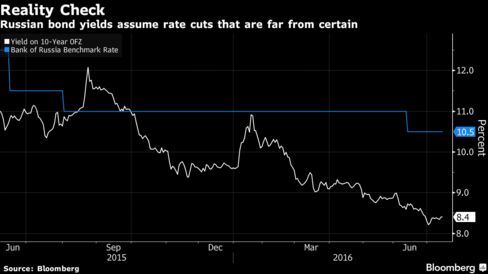 Hartmann's caution has less to do with regular barometers of economic health than bond yields that are out of sync with monetary policy. Inflation's climb from a two-year low in June and expectations it will keep rising will delay a cycle of interest-rate cuts that had only just resumed, according to economists at Citigroup Inc. and Morgan Stanley. They are among forecasters who predict the Bank of Russia will hold off on more reductions until September, after lowering the benchmark by half a percentage point to 10.5 percent last month.
On the surface, little stands in the way of the world's best local-government bond rally after Brazil. A stronger ruble has created a bulwark to rampant inflation and crude has stabilized closer to $50 a barrel after slumping to as low as $27 in January. Ten-year bond yields at 8.45 percent show traders have already embraced reductions of two percentage points, while the median of 24 forecasts in a Bloomberg survey call for one percentage point by year-end.
Market Disconnect
"Now the central bank has to deliver those rate cuts that the Russian yield curve reflects," Hartmann said, who attributes his success this year to a long-term outlook, persevering through the market's ups and downs as other investors sought short-term gains. "Unless those rate cuts are delivered, we're unlikely to see any additional aggressive ruble-yield decline."
The disconnect isn't enough to cause Hartmann to scale back holdings of government bonds known as OFZs which have returned 26 percent in dollar terms this year. He says yields could fall another 20 basis points this year as investors fleeing negative rates and political risk in the euro zone turn to emerging markets that offer higher returns. His top holdings include the government's Eurobond due September 2020, OFZs due January 2028, and Russian Railways 2019's ruble Eurobonds.
"There's no plan to change the overall allocation," he said. "You still have opportunities in Russia, and Russia is still one of the higher yielding countries in the world."
Before it's here, it's on the Bloomberg Terminal.
LEARN MORE