Kawasaki Heavy May Spend Several Billion Yen on U.S. M&A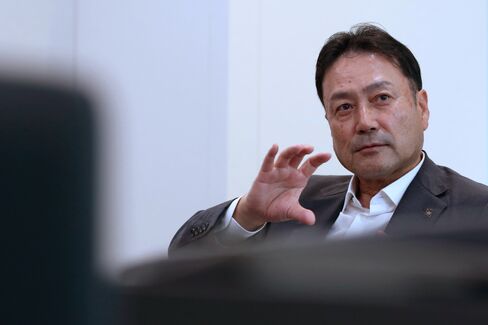 Wants to buy train maintenance company to add to manufacturing

Aims to boost train sales by 36% over next three years
Kawasaki Heavy Industries Ltd., the Japanese maker of New York City subway trains, is seeking to buy a train maintenance company in the U.S. to help increase its services line-up and boost profit margins.
"The costs for maintenance are largely fixed," Yoshinori Kanehana, president of the company, said in an interview Tuesday. "By bringing that in-house, we can cut costs and increase profit."
Kawasaki Heavy, which gets a quarter of revenue from the U.S., its biggest market outside Japan, is considering spending "several billion yen" to acquire a U.S. company, he said. The Kobe, western Japan-based company is competing with other Asian train makers such as Hitachi Ltd. and CRRC Corp. in North America, as well as Bombardier Inc.
Kawasaki Heavy, which also supplies bullet trains to Japan and Taiwan, is targeting a 36 percent increase in rolling stock sales to 200 billion yen ($1.9 billion) by the year starting April 2018, from 147 billion yen in the 12 months through March, it said in May. It is also aiming for a 52 percent jump in operating profit to 14 billion yen in the period.
Rail Operation
Rolling stock accounted for 9.3 percent of operating profit of 96 billion yen and 9.5 percent of sales in the year ended March, according to data provided by the company.
Shares of Kawasaki Heavy rose 1.4 percent to close at 281 yen in Tokyo trading Wednesday. They have fallen 38 percent this year, compared with a 15 percent drop in the Nikkei 225 Stock Average.
Kawasaki Heavy, which also makes gas turbines, is interested in tying up with an Asian engineering company to boost its energy business.
"We make very high quality products but our weakness lies in combining that with" engineering, procurement and construction of an energy project, Kanehana said. "We're looking for a company that can do the whole engineering process."
The executive said Kawasaki Heavy and the other company could start by collaborating on a project "and then move to M&A in the future. There are several candidates in Indonesia and the Philippines," he said, without identifying them.
Kawasaki Heavy also builds parts for engines used in Airbus Group SE and Boeing Co. planes. The U.K.'s decision to exit the European Union may affect the Japanese company's engine tie-up with Rolls-Royce Holdings Plc, should the move lead to export taxes that reduce sales, Kanehana said.
"We operate a risk and profit sharing relationship with Rolls-Royce," he said. "It's worth several tens of billions of yen of work. We are watching the situation very carefully."
Before it's here, it's on the Bloomberg Terminal.
LEARN MORE