Carbon Floor Crucial for Unlocking Clean-Tech Funding, HSBC Says
Without pricing harmony, green financing seen struggling

Emission permit plunges keep fossil fuels profitable
Minimum prices for greenhouse gas emissions will help attract financing for the $80 trillion needed to wean the world's economy off fossil fuels, according to HSBC Holdings Plc.
Harmonized carbon markets can win over investors spooked by repeated collapses in prices worldwide, according to Spencer Lake, the vice chairman of global banking and markets at HSBC, the biggest loan arranger in Europe, Middle East and Africa this year. Without an emissions price floor, such as that proposed by France, clean-energy projects will probably struggle to compete against coal, oil and natural gas, he said.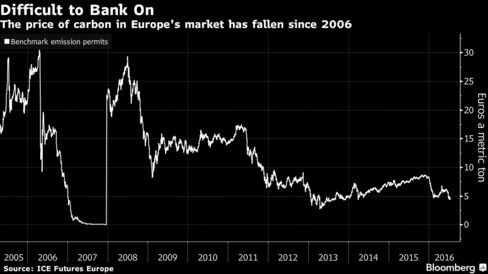 A glut of pollution rights in European and U.S. markets has driven prices far below the rates needed to encourage factories and utilities to invest in clean technology. In the first quarter of 2016, global clean-energy investment was about $53 billion, 12 percent less than the same quarter last year, according to Bloomberg New Energy Finance.
"Directionally, over time, we do want to see prices go higher and higher so that we can skew more investment into renewable sources," Lake said in an interview. "Plunging prices are worrying. People will revert back to buying fossil fuel."
Industrial Finance
Almost 200 nations negotiated the most ambitious climate deal yet to limit greenhouse gas emissions in Paris last December. Banks would be able to assess each nation's credit risks more quickly and at lower cost under harmonized rules and prices attached to emissions, Lake said. There's a risk each country will reduce carbon in different ways, preventing lenders from providing "industrial scale" finance urgently, he said.
In Europe, where carbon-permit prices have slumped more than 80 percent from their 2006 peaks, France is calling for a minimum price that's about six times above current levels. That's at odds with other members of the European Union, where most are against setting such a floor, Maros Sefcovic, the European Commission's vice president for Energy, said Tuesday.
Emission credits auctioned in the U.S. Northeast in June sold for 40 percent less than an auction in December. In China, where regulators are establishing a national market, prices are already falling in pilot programs, said Sophie Lu, an analyst in Beijing at Bloomberg New Energy Finance.
"There are a lot of carbon prices around the world," Lake said, without recommending a minimum level. "Governments need to put the discipline behind carbon pricing so everyone is singing the same song. If carbon prices go to zero, it defeats the purpose."
Before it's here, it's on the Bloomberg Terminal.
LEARN MORE