Brazil Pension Giant Said to Shop $606 Million of Bad Home Loans
Fund provides retirement benefits to Banco do Brasil workers

Banks Santander and Caixa have also sold loan portfolios
Previ, Brazil's biggest pension fund, is seeking to sell as much as 2 billion reais ($606.7 million) of distressed real-estate loans, according to three people familiar with the plan.
The fund, which manages the retirement savings of workers from state-controlled Banco do Brasil SA, has approached investors to gauge their interest in the non-performing loans, according to the people, who asked not to be identified because the information is private. Rio de Janeiro-based Previ offers mortgages at subsidized rates to its members.
Previ, which had 160.6 billion reais of assets under management as of March, joins Brazilian banks such as Santander Brasil SA and Caixa Economica Federal in seeking to unload credit portfolios that have already been written down. Firms that specialize in going after debtors are seeing a boom in business as Brazil's worst recession in more than a century sparks a surge in delinquencies.
Previ's sale may take place as soon as the end of the year, the people said.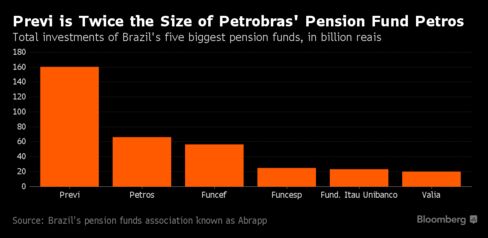 "We've seen an increasing number of investors looking at non-performing loans in Brazil," said Salvatore Milanese, who invests in distressed loans in Brazil as a partner at CRS Investments and previously worked as head of restructuring at the Brazilian unit of KPMG. "It is a market that is growing fast. That ends up boosting the interest of sellers that had never considered it as an option before."
Previ's press office said in an e-mail that the fund constantly analyzes business alternatives and that its real-estate credit portfolio may be considered for an eventual deal.
State-owned Caixa Economica Federal, Brazil's biggest real-estate lender, was able to reduce the money it set aside for bad loans in the first quarter after it sold 2.6 billion reais of non-performing debt. Santander Brasil sold 1.77 billion reais earlier this year from its personal and corporate credit portfolios. Itau Unibanco SA, the country's biggest private bank, agreed to buy Grupo BTG Pactual's stake in distressed-asset firm Recovery do Brasil Consultoria SA for 640 million reais in December.
Previ, created in 1904, has more than 92,000 beneficiaries and began providing real-estate funding in the 1980s, according to the fund's press office.
About 60 billion reais of distressed portfolios may be sold by Brazilian banks this year, according to estimates by credit management firm RCB Investimentos SA.
"Most deals in this market happen in the second half of the year," CRS's Milanese said.
Before it's here, it's on the Bloomberg Terminal.
LEARN MORE