Bank Options Priced for Earnings Pain as Brexit Delays Rate Hike
Investors paying biggest premium since 2011 for bank hedges

Brexit lowered rate hike chances, hurting bank profit recovery
Even as U.S. bank stocks enjoy their best stretch of gains in three months, gloomy profit forecasts for the group have equity investors taking few chances heading into earnings season.
JPMorgan Chase & Co. is scheduled to kick off a string of results on Thursday in which banks are expected to see earnings contract more than 10 percent. That could put a dent in the 11 percent gain for bank shares over the past two weeks, a possibility that has options traders paying the biggest premium since 2011 for short-term hedges, Bloomberg data show.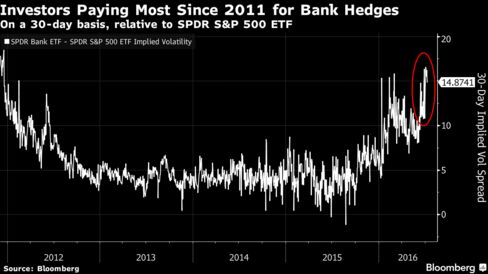 Bank stocks got a taste of investor wrath following the U.K.'s decision to exit the European Union, plummeting 13 percent over two days on concern that the Federal Reserve will keep lending rates near zero. Yields on 10-year Treasury notes fell to a record and remain near historic lows, further draining financial firms of interest income. While the shares have recovered nearly all of their losses since then, traders are prepared for earnings to derail the progress again.
"We had an explosive rally just two days after the Brexit referendum, but much of that was just a result of the market melting higher, with almost no discrimination between sectors," said Mark Luschini, chief investment strategist at Philadelphia-based Janney Montgomery Scott LLC, which manages $54 billion. "With low rates continuing to put pressure on interest income, how do banks go up from here? Investors don't know, so they're bracing for the worst."
The one-month implied volatility spread between the SPDR S&P Bank ETF and the broader SPDR S&P 500 ETF widened to 16.54 points last week, the highest since December 2011, Bloomberg data show. The spread is more than twice the measure's five-year average.
The fluctuations in bank stocks following Brexit show why investors might be worried about volatility. The S&P Banks Select Industry Index's 13 percent slide in the two days following the vote was double the loss in the S&P 500. It's climbed 11 percent since then, almost four percentage points more than the benchmark index. The bank gauge slid 0.2 percent at 2:53 p.m. in New York.
Combined net income at the six biggest U.S. banks is estimated to fall 18 percent in the second quarter from a year earlier, according to analysts surveyed by Bloomberg. For the full year, analysts predict combined earnings for the group -- which includes Bank of America Corp., Wells Fargo & Co. and Morgan Stanley -- will drop 14 percent.
With their trading units already having suffered their worst first quarter since 2009, investment banks are also expected to struggle to generate revenue as companies reconsider acquisitions and selling new securities.
"Brexit has created an environment where banks will have problems making money and grinding out earnings on the loan side," said Bill Schultz, who oversees $1.2 billion as chief investment officer at McQueen, Ball & Associates Inc. in Bethlehem, Pennsylvania. "From an investor's standpoint you have to be hesitant to jump back into financials."
If the banking sector's profit forecast bears out, it would mark its fourth straight quarter of contraction, the longest since the start of the seven-year bull market, according to Bloomberg data. The group saw profits decline 12 percent on a year-over-year basis in the first quarter of 2016, the data show.
Still, the Fed's willingness to raise rates may be getting a boost from U.S. economic data that's improved markedly over the past month, something that would immediately benefit banks, according to Peter Jankovskis of Oakbrook Investments.
Friday saw the strongest employment report since October. Meanwhile, Citigroup Inc.'s U.S. Economic Surprise Index has risen 11 of the past 12 days, reaching the highest level since January 2015.
While economists now see just a 35 percent chance of a rate hike by the end of 2016, that's still up from 8.6 percent as of two weeks ago, according to a Bloomberg survey.
"We're once again seeing strong jobs reports, and basic economic numbers continue to be relatively solid," said Jankovskis, who helps oversee $1.9 billion as co-chief investment officer of Lisle, Illinois-based OakBrook Investments. "While people may be seeking protection in the short-term, that suggests that rate hikes will be coming at some point."
Before it's here, it's on the Bloomberg Terminal.
LEARN MORE