Investors Brace for Korean Rate Decision to Move Markets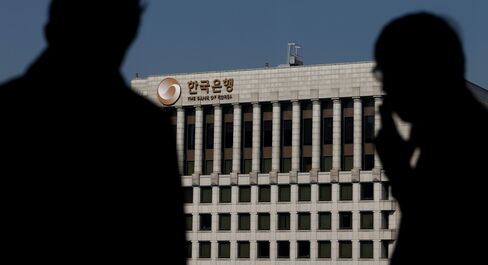 BOK to release GDP, CPI revisions; Lee will give two briefings

All 20 economists in survey expect no change in benchmark rate
The Bank of Korea is widely expected to hold its benchmark rate steady at Thursday's meeting, yet investors are preparing for market movements as the central bank refreshes its economic outlook and Governor Lee Ju Yeol holds two briefings including on the inflation target.
All 20 economists surveyed by Bloomberg forecast that the BOK will keep the seven-day repurchase rate at 1.25 percent as it monitors the impact of its surprise June rate cut, fallout from the U.K.'s vote to exit the European Union and implementation of the government's supplementary budget.
Even with the consensus view for no policy change at this meeting, South Korean bond yields fell to record lows this month as the Brexit vote raised expectations for future easing to offset risks from global economic uncertainty. Royal Bank of Scotland Plc, Goldman Sachs Group Inc. and Natixis Asia Ltd. are among those expecting another cut to 1 percent this year.
The BOK will announce its rate decision at about 10 a.m. in Seoul, with a statement on the decision coming soon after. Governor Lee usually mentions revised growth and inflation projections during a 11:20 a.m. press briefing.
Lee will hold another briefing at about 2 p.m. to explain why inflation has trailed the new 2 percent target for six months and lay out policy directions to achieve this goal. The briefing is a part of accountability measures the BOK promised when it set the new price target for 2016-2018. Another briefing will be held at 3 p.m. by the central bank's research officials to give details about the quarterly economic outlook revision.
GDP, CPI
The BOK is likely to lower its 2016 growth projections as Lee said in June that risks have increased for the second half of the year because of the restructuring of indebted companies and a slowdown in global trade. The BOK in April projected inflation for the year would be 1.2 percent.
Nomura economist Kwon Young Sun said the central bank may cut its forecast for 2016 gross domestic product growth to 2.6 percent and its inflation projection to 1 percent.
With the BOK previously estimating Korea's potential growth rate at about 3 percent to 3.2 percent, a downward revision to growth would bolster expectations for more rate cuts.
Inflation Targeting
In Lee's briefing on inflation targeting, investors will be watching for signs of his commitment to achieving the inflation target, and how optimistic or pessimistic he appears about the prospect of price gains.
"It's not a situation where the BOK can revise the new inflation target, but Lee will try to explain factors like oil that are moderating price gains," said Park Chong Hoon, head of research at Standard Chartered Plc in Seoul. "If Lee says inflation is expected to rise pretty fast going forward, it could suggest monetary policy will be hawkish. But if he says inflation will remain below 1 percent for now, then it could open the possibility for more rate cuts."
The central bank set the inflation target for 2016-2018 at 2 percent, after missing the 2.5 percent to 3.5 percent target range in the 2013-2015 period.
Market Reaction
The market's expectation is that the decision will be a "unanimous" hold as the rate was just cut in June, so bond movements will depend on Lee's comments, according to Kim Myoung Sil, a fixed-income analyst at KB Investment & Securities Co.
"There's been a global risk-on mode recently and U.S. Treasury yields rose, but Korean yields remained suppressed mainly because of BOK expectations," Kim said. "If the BOK does not lower economic forecasts, or if Lee doesn't show the possibility of further easing, then I expect a short-term spike in Korean yields."
The yield for the three-year government bond closed at 1.21 percent on Wednesday, near an all-time low, Korea Exchange prices show. The won's moves were volatile this month amid changing views on the Federal Reserve's interest rate path and the economic impact of Brexit. It closed at 1,146.40 per dollar on Wednesday.
Before it's here, it's on the Bloomberg Terminal.
LEARN MORE