Thailand Car Sales Stall as Economy Lags Asean Neighbors: Chart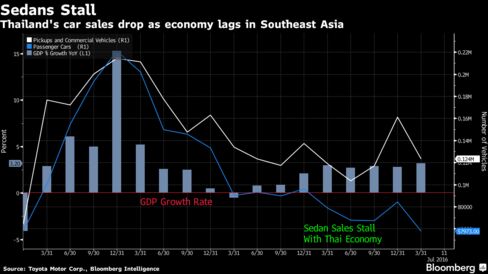 A slowdown in Thailand's automobile sales prompted Toyota Motor Corp. to cut about 800 workers last week at three local factories. Demand in Southeast Asia's second-largest market behind Indonesia has stalled along with an economy where gross domestic product growth hasn't exceeded 3.2 percent in any quarter in three years. Sedans have been the main laggard, as opposed to pickups and commercial vehicles, with fewer than 60,000 passenger cars sold in the first quarter of this year, the least in any three months since 2009.
Before it's here, it's on the Bloomberg Terminal.
LEARN MORE