Sun Hung Kai Billionaire Kwok Freed on Bail Pending Appeal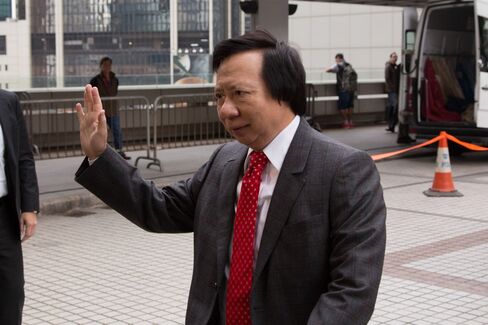 Former Sun Hung Kai co-chairman had been in jail since 2014

Kwok released on HK$10 million bail, according to RTHK
Thomas Kwok, the former co-chairman of Sun Hung Kai Properties Ltd. who has been in jail since December 2014 after being convicted of corrupting a local official, walked free on Tuesday on a HK$10 million ($1.3 million) bail in Hong Kong pending an appeal.
Hong Kong's highest court will hear an appeal of Kwok's conviction for conspiracy to commit misconduct involving four defendants in the corruption case, beginning May 9, 2017, Radio Television Hong Kong reported, citing Court of Final Appeal proceedings.
The 64-year-old billionaire, whose family controls Hong Kong's largest property developer by market capitalization, was sentenced to five years in jail and fined HK$500,000 for conspiring to corrupt Rafael Hui, the city's chief secretary from 2005 to 2007, who was also convicted in the trial. It was Hong Kong's highest-profile corruption case and exposed ties between city officials and its business elite.
Kwok, whose normally jet-black hair was gray, addressed media queries outside the courtroom. Wearing a brown suit and a red tie, he embraced his son Adam Kwok and thanked his family and friends for their support before speaking about prison life.
"When you have lost something, you know the treasures of life, for example, your freedom," he said in Cantonese. "Many things we normally take for granted, but they are all blessings from God," said Kwok, a devout Christian.
Kwok's brother Raymond was acquitted of four charges against him in the same trial and is now the sole chairman of Sun Hung Kai. Son Adam sits on the company's board. Representatives at Sun Hung Kai, in an e-mail, declined to comment on the court proceedings.
Before it's here, it's on the Bloomberg Terminal.
LEARN MORE