Rolls-Royce Ready to Slow Output If Airbus A350 Rate Misses Goal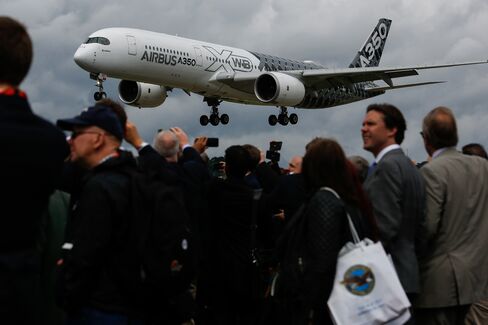 Engine giant less confident in delivery target than planemaker

CEO East preparing steps to avoid costly inventory build up
Rolls-Royce Holdings Plc said it's preparing for a scenario in which Airbus Group SE fails to meet delivery targets for the A350 jetliner by readying measures to slow engine production and preserve cash.
While Airbus remains committed to handing over 50 of the planes this year to customers including Qatar Airways, build rates have been held back by seat and interiors supplier Zodiac SA's inability to meet production requirements, and only 13 have so far been delivered.
Rolls-Royce Chief Executive Officer Warren East said he's therefore having to carefully pace a second-half acceleration in output of the Trent XWB turbines that power the A350 in order to avoid a costly inventory buildup.
"We've got an order commitment that we have to deliver to Airbus, and we've got the reality of how many aeroplanes they may or may not ship," East said in a briefing Tuesday. "Those two can be different."
'Inventory Mountain '
Rolls wants the flexibility to supply the engines Airbus wants, "but at the same time not end up with a mountain of inventory if they run into issues due to some third-party company," the CEO said at the Farnborough Air Show.
Airlines make their final payments on aircraft and their engines only on taking delivery, so that planes left idle while Zodiac catches up with its commitments will have accrued costs for Airbus and Rolls without providing a return.
The situation is especially acute for engine suppliers, which often sell turbines at a loss and make a profit on subsequent maintenance work. Revenues gain incrementally as the powerplants age, so that the newest Trent models could take three to four years before significantly contributing to earnings.
Airbus executive Fabrice Bregier, who heads the company's main jetliner unit, said Tuesday in Farnborough that delivery of the planned 50 A350s this year remains eminently achievable.
"We have some supply chain issues," Bregier told Bloomberg Television. "Cabin elements are critical. It's challenging, but I think we can make it. If Zodiac fixes the issues, especially on the lavatory, we will make it."
Rolls-Royce is meanwhile looking at slimming down the product ranges of its struggling marine and power-systems divisions in order to stem losses as it awaits a recovery in demand, East said.
Rolls remains on track to deliver as much as 200 million pounds ($240 million) in savings by the end of 2017, and could produce 1 billion pounds of extra profitability if it can improve margins to match the industry's best, he said.
Farnborough International Airshow 2016: Full Coverage
Before it's here, it's on the Bloomberg Terminal.
LEARN MORE