Citigroup sees 20 basis point cost jump possible on downgrade

S&P, Moody's concerned election result to hamper fiscal reform
The biggest losers after Prime Minister Malcolm Turnbull scraped through to win Australia's fractious elections could be homebuyers facing higher costs on their A$1.6 trillion ($1.2 trillion) in mortgages.
The price to protect bonds issued by the nation's banks climbed seven basis points last week after S&P Global Ratings cut its outlook on Australia's AAA grade to negative on concern government deficits will persist without "more forceful" decisions to rein in shortfalls. It also put the nation's biggest lenders on notice. Stephen Miller, BlackRock Inc.'s head of fixed income for Australia, said Wednesday there's a "real risk" Australia loses its top debt score.
"An increase in funding costs relating to a ratings downgrade will impact bank margins, but banks may choose to offset this via loan pricing," said Anthony Ip, a credit sector specialist at Citigroup Inc. in Sydney, adding that any increase in funding costs will be significant but manageable. "At the end of the day it's still a competitive lending market."
Australia's largest lenders -- Australia & New Zealand Banking Group Ltd., Commonwealth Bank of Australia, National Australia Bank Ltd. and Westpac Banking Corp. -- rely on offshore bond markets for a fifth of their funding requirements, central bank data show. If their rankings were lowered after a sovereign downgrade, that would increase borrowing costs as much as 20 basis points, prompting them to slap mortgagees with higher interest rates, according to Citigroup.
Uncertain Victory
Turnbull has declared victory in Australia's election, though more than a week after voting day it remained unclear Tuesday if his Liberal-National coalition had won enough seats to form a majority government. The ballot has raised questions about the prime minister's leadership, and left him without a strong mandate for much-needed economic and fiscal reforms.
S&P lowered Australia's AAA credit rating outlook to negative from stable July 7, saying the election win wasn't strong enough to allow for forceful fiscal policy measures to curb budget deficits. The outlooks for the four largest banks were immediately reduced by S&P, because their credit scores benefit from government support. The rating company also said it expected to lower the lenders in the event of a sovereign downgrade.
"I think the message from S&P was this: you've had your foot in the sand for a long time, your foot's probably on the line now," BlackRock's Miller said Wednesday to journalists in Sydney. "If you don't get your foot off the line in, let's call it in six to 12 months, the balance of probability is that you'll be downgraded."
Moody's Investors Service said Monday that it could be a "credit negative" if Turnbull can't win agreement from the split upper house for plans to improve the government's finances. Fitch Ratings said Wednesday the narrow election win had increased policy uncertainty.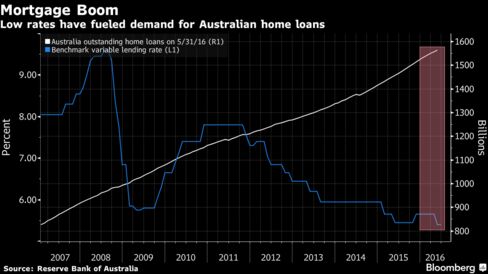 The average net interest margin, a measure of lending profitability for banks, is at the lowest in at at least eight years for the largest banks. It has narrowed both because of their need to hold more capital under rules aimed at preventing another financial crisis and as competition to grab market share intensified.
The last time the banks were faced with increased costs, they didn't hesitate to immediately make homeowners shoulder some of the burden. In October, all of the big four raised their variable mortgage rates for owner occupiers for the first time in five years, citing the higher cost of holding more capital. The lenders raised a record A$20 billion in equity last year as the regulator introduced new rules to bolster their balance sheets against a housing downturn.
Any increase in mortgage costs will deal further blows to weakening consumer confidence, which fell 3 percent in July, according to a Westpac gauge.
Funding Costs
"While the banks have pricing power, they have passed on funding costs before to customers and it could happen here too," David Walker, a Sydney-based senior investment analyst at Clime Investment Management, which manages A$600 million in equities including National Australia and ANZ, said. "We are underweight banks, and plan to go further."
A 25 basis points increase on a A$300,000 30-year home loan would add A$62 to the monthly interest payment, according to a calculator on the Commonwealth Bank's website.
Still, any rate increase will only lift the benchmark variable mortgage rate from a nearly six-decade low and further reductions in the cash rate by the central bank could rein it back. Swaps traders are pricing in a better than 70 percent chance of rate cuts by the Reserve Bank of Australia by the end of the year.
With Australian banks facing slowing profit growth, consumers are vulnerable, said George Boubouras, who manages A$650 million in equities including ANZ and Commonwealth Bank as chief investment officer at Contango Asset Management in Melbourne. "Increased funding costs, increased costs of business, maintaining margins -- a portion will have to be passed on."
Before it's here, it's on the Bloomberg Terminal.
LEARN MORE