Germany to Auction 10-Year Bonds With Zero Percent Coupon: Chart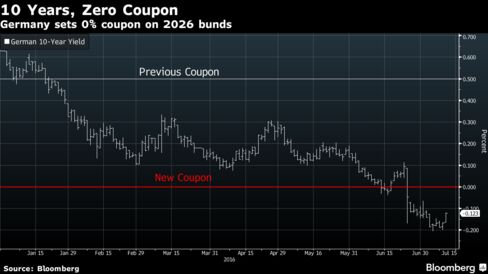 Germany is selling 10-year bonds with a zero coupon for the first time, as a rally in fixed-income securities pushes investors to forgo annual interest payments in order to hold the safest assets. The nation is selling 5 billion euros of zero percent bonds due in August 2026 on Wednesday, after yields in the secondary market dropped to an all-time low of minus 0.205 percent last week. A negative yield at the auction would mean investors buying the securities and holding them until maturity would receive back less than they paid.
Before it's here, it's on the Bloomberg Terminal.
LEARN MORE