U.K. floorcoverings distributor Headlam to increase its prices

Retailer Carpetright won't follow suit in short term: CEO
Carpet and tile sellers are not the most widely-cited economic indicator, yet that industry is one of the first U.K. sectors pushing through price increases after the EU referendum vote sent the pound plunging.
Headlam Group Plc, a U.K. floorcoverings distributor, said Tuesday it will raise prices in the next month to cover increased costs of importing from Belgium and the Netherlands, one of the first companies to do so.
Sterling has slumped almost 10 percent against the euro and 12 percent against the dollar since the U.K. voted for Brexit, pushing up costs for importers and creating inflationary pressures. Lenovo Group Ltd., the world's biggest personal-computer maker, said last week it's considering price hikes in the U.K. Fellow PC maker Dell Inc. intends to boost British prices 10 percent, according to the Register.
Headlam said the effect of the pound's drop has been to increase the cost it pays for residential floorcoverings by an average of 6 percent. The company, which mostly supplies independent retailers and floorcovering merchants, will raise selling prices by a similar amount, the Birmingham-based company said.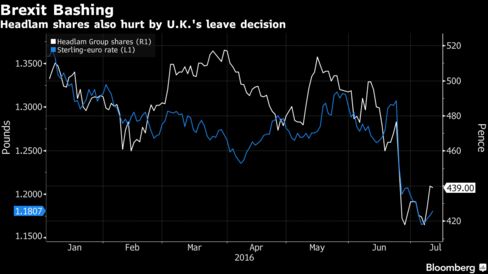 "It is too early to forecast any other effects that the referendum result may have on the group's business, but the board will continue to monitor the situation carefully and manage the group accordingly," Headlam said as it reported a 4.8 percent gain in first-half revenue.
Headlam's price rises won't be replicated by Carpetright Plc, the U.K.'s biggest floorcoverings seller. Carpetright, which gets about 60 percent of its products from Belgium, has most of its purchasing contracts in place through April 2017, Chief Executive Officer Wilf Walsh said by phone.
"We have no immediate plan to put up prices," Walsh said.
The Brexit vote is likely to weigh on demand in the U.K. housing and home-improvement markets, Dublin-based distributor Grafton Group Plc also said Tuesday. Capital Economics Ltd. cut its forecast for U.K. home-sale volumes by 10 percent following the EU vote as a Brexit-triggered economic slowdown will weigh on job creation and income growth, according to a report last month.
In contrast to Headlam, international customers of U.K. online fashion retailer Asos Plc are set to pay less as a result of sterling's decline.
"Our prices are denominated off sterling and they now look cheaper to the U.S. customer and the European customer," Asos Chief Executive Officer Nick Beighton said on a conference call after the company reported a 30 percent gain in four-month sales. Last year, 57 percent of Asos's revenue came from outside the U.K.
Before it's here, it's on the Bloomberg Terminal.
LEARN MORE