AMC Buys Odeon in Biggest U.K. Takeover Since EU Vote
Purchase of cinema chain gives AMC a foothold in Europe

Cash and stock transaction valued at about $1.2 billion
AMC Entertainment Holdings Inc., the U.S. theater chain controlled by Asia's second-richest man, agreed to buy Odeon & UCI Cinemas Group for 921 million pounds ($1.2 billion) in cash and stock to expand in Europe.
AMC will pay 500 million pounds for the equity, 75 percent in cash and 25 percent in stock, and assume net debt -- at 407 million pounds as of March 31 -- the company said in a statement Tuesday.
The acquisition by AMC, majority-owned by Chinese billionaire Wang Jianlin's Dalian Wanda Group Co., widens Wanda's lead as the world's largest operator of movie screens. Odeon, the first billion-dollar sale of a U.K. asset emerging since the Brexit vote, is Europe's largest cinema chain. A sale gives Guy Hands's Terra Firma Capital Partners Ltd. an exit from the business after a number of unsuccessful divestment attempts that date back to 2011.
AMC was preparing an offer for Odeon & UCI of as much as 900 million pounds, people familiar with the matter said in May. Since then, the U.K.'s referendum to leave the European Union has caused the pound to drop against the U.S. dollar, making U.K. assets cheaper for overseas investors. Wanda, in the statement, attributed Brexit for the breakthrough in its three-year negotiations toward a deal.
"The deal is 10 percent-plus less expensive than it was a few weeks ago," said Leo Kulp, an analyst at RBC Capital Markets.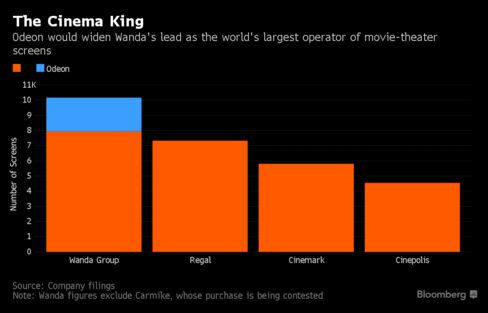 AMC is still moving forward with plans to acquire No. 4 U.S. theater chain Carmike Cinemas Inc., though the company warned that it's prepared to walk away from its $30-a-share purchase in the face of opposition from Carmike's largest stockholders, who say the price is too low.
"We will work with Carmike this week to see if there are ways that can save the transaction," Chief Executive Officer Adam Aron said on a conference call. Carmike holders are slated to vote Friday on whether to accept the $1.1 billion deal. "We do not have the kind of unlimited checkbook that the two large dissident shareholders seem to think we have."
Carmike's two largest shareholders -- Mittleman Brothers LLC and Driehaus Capital Management LLC -- have opposed the deal and added to their stakes. Together they own about 20 percent, according to data compiled by Bloomberg. The investors are joined by two shareholder advisory firms, Glass Lewis & Co. and Institutional Shareholder Services Inc., which came out against the transaction last month. They, too, said the offer undervalued Carmike.
Though AMC has the financing commitments and flexibility to complete both transactions, the company has balked at raising its offer price to $40 a share. In an earlier statement, Aron said the deal gets "marginal very quickly" for AMC above the $30 threshold.
"If we would have to pay a price at which AMC shareholders would not benefit from the transaction, as I said, we've already come up with a pretty amazing plan B, and it would be a great year for AMC if that's what we did instead," Aron said on the call.
The pressure on AMC to complete a Carmike deal in 2016 is now largely off the table, increasing the risk of the accord falling apart by the end of the week, Piper Jaffray Cos. analyst Stan Meyers said in a research note Tuesday. Based on Aron's comments, AMC may be willing to increase its bid and potentially throw in some equity, though not to the levels expected by the key Carmike stakeholders, he wrote.
AMC appears content to walk away from the deal, especially given the lack of a breakup fee, added Ben Mogil, an analyst with Stifel Nicolaus & Co.
"The game of chicken continues and AMC was as definite as possible that there is a very low likelihood that the price is increased before that vote," Mogil wrote in a research note.
Shares of AMC rose 6.8 percent to $29.66 at 1:05 p.m. in New York, their biggest intraday jump since Feb. 29. Carmike fell less than 1 percent to $29.65.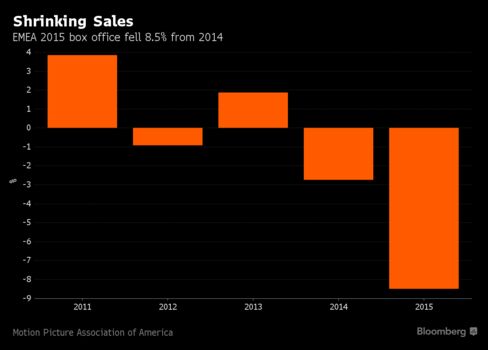 AMC is the No. 2 chain in the U.S. behind Regal Entertainment Group, and a purchase of both Carmike and Odeon & UCI would increase the theater chain's size by more than 50 percent in terms of revenue. Odeon & UCI operates 2,236 screens from the U.K. to Spain and Germany; Carmike had 276 theaters with 2,954 screens in 41 states as of March 2016.
Wanda would be the first company in the industry to manage more than 10,000 screens.
(
Corrects description of potential revenue increase in penultimate paragraph.
)
Before it's here, it's on the Bloomberg Terminal.
LEARN MORE