Rising Energy-Import Bill Deepens Tunisia's Economic Troubles
Political turmoil curbed oil and gas investment, says minister

Nation is suffering high unemployment, declining energy output
Social and political unrest in Tunisia is reducing energy production, adding to the economic pressure on the fragile nation that was the only real success story to emerge from the Arab Spring.
The North African country's energy-import bill has risen 45 percent to 5.5 billion dinars ($2.5 billion) since 2010, government data show. Domestic oil production dropped by about a quarter over the same period to 63,000 barrels a day last year, according to BP Plc data. Only one exploration well has been drilled this year, instead of the eleven planned, and international companies are pulling out amid strikes and protests.
"Exploration, research and development of the hydrocarbon sector witnessed a significant decline in recent years, mainly due to social unrest and political instability," Minister of Energy and Mines Mongi Marzouk said in an interview in Tunis. Investment "is hostage" to this situation, while the plunge in global oil prices also plays a role, he said.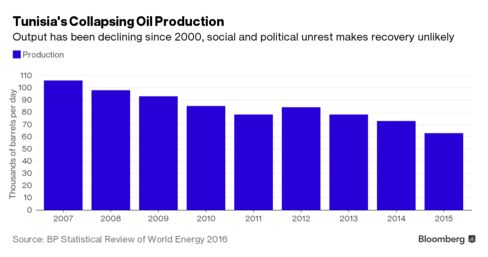 Tunisia largely avoided the violence that engulfed its neighbor Libya since both countries toppled their rulers in 2011. Its new constitution has been heralded as a model for the Arab world and it has held successful elections -- a transition rewarded with the Nobel Peace Prize. Yet four major terror attacks have devastated the nation's tourism industry and social tensions are festering amid low economic activity and high unemployment. Politicians are in talks to form a new government, the seventh since the uprising.
The collapse of Tunisia's energy industry is adding to these problems. Its energy-trade deficit was about 1.2 million dinars in the first five months of this year, about a quarter of the overall trade deficit.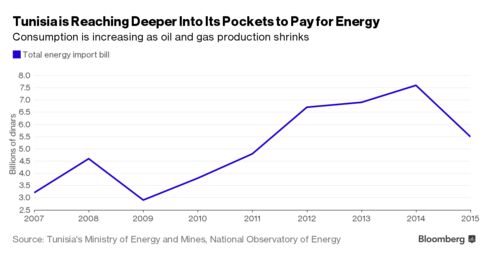 Tunisia's oil and natural gas sector became a focal point for anger after the uprising, especially in the impoverished and underdeveloped south, where most fields are located and locals are demanding more investment and greater job opportunities. London-based Petrofac Plc. has faced strikes and protests on and off all year at the Chergui gas plant -- activities have been stopped since April. The company declined to comment on the matter.
Three international companies exploring in Tunisia recently announced plans to withdraw amid the turmoil: Sweden-based PA Resources, Australia's Cooper Energy and Canada's Dualex Energy. Other companies continue to operate, including the three largest: BG Group, acquired this year by Royal Dutch Shell Plc, Austria-based OMV AG and Italy's Eni SpA.
Investment has flat-lined since the uprising, with just $733,000 of industry spending last year compared with $2.2 million in 2008, according to data from the Ministry of Energy and Mines. Ridha Bouzouada, director general of the ministry, said he hopes work will have begun on at least seven of the 11 planned exploration wells by the year's end. Three new exploration permits are awaiting final approval in parliament, he said.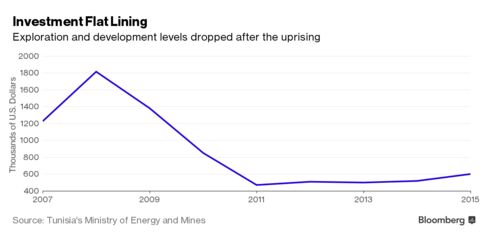 In response to calls for the management of natural resources to be more transparent, the government has begun publishing some contracts, a process that's delaying some approvals, according to Carole Nakhle, an associate lecturer in energy economics at the U.K.'s University of Surrey and director of consultant Crystol Energy.
"On top of that you add the low oil price and political and security risk, and this does not make a good environment for investment," Nakhle said. "I don't think it will be reversed any time soon, not within at least the next four to five years."
The little crude oil that Tunisia is producing is mainly exported by its foreign partners and it imports most of its refined fuels. The country has just one refinery owned and operated by the state in Bizert, while plans for a second plant were suspended in 2014. The nation's natural gas output goes straight to the local market, covering about 47 percent of demand, and the rest is imported from Algeria, Energy and Mines Minister Marzouk said in the June 30 interview.
Energy consumption is moving in the opposite direction to production, rising by at least 3 percent a year, according to the World Bank. The government has been carefully reducing energy subsidies, seeking to diversify the energy mix through renewables and making regulations more attractive to investors in a bid to improve the situation, the minister said.
"The fiscal resources the state is taking from oil and gas revenue is falling," said Kamel Rekik, an independent analyst based in Tunis. "The state budget and the quality of life of the consumer are all being affected."
Before it's here, it's on the Bloomberg Terminal.
LEARN MORE